We've heard of women delivering their own babies via C-section, but a new viral video is proving that babies can now deliver themselves.
A YouTube clip from 2015 recently resurfaced thanks to its fascinating demonstration of a "natural caesarean." This is similar to a normal C-section, however, instead of doctors (or mom) pulling the baby out, the infant is allowed to wriggle free all by himself or herself.
In the three-minute clip, UK mom Sarah Saunders is seen giving birth at Torbay Hospital. According to her, this C-section technique is supposed to be an alternative option for those who are unable to give birth vaginally.
"Having a natural caesarean is the next best thing!" she wrote in the video's description.
Watch the incredible delivery above.
In the video, medical staff members are seen making an incision in Saunder's abdomen. A doctor then helps the infant's head to emerge before letting him rest a few seconds. The baby's shoulders are then taken out and he is allowed to wriggle the rest of the way out at his own pace.
According to senior midwife Jenny Smith, of London's Queen Charlotte's and Chelsea Hospital, it can take up to four minutes for a baby to be born via natural caesarean before the baby is placed on the mother's chest for skin-to-skin bonding.
Impressively, Saunders remains calm throughout the entire birth process. But when she sees her baby boy for the first time, she is overcome with emotion.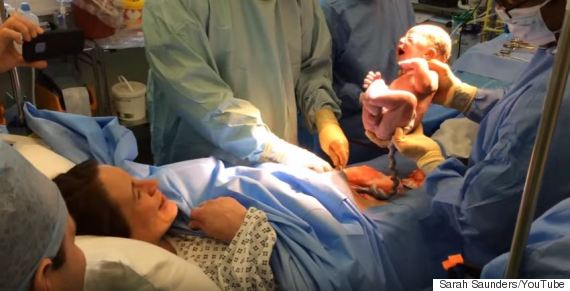 In the YouTube comments, many users noted how beautiful the unconventional procedure was.
"Thank you SO much for sharing this!" one wrote. "I just loved to watch how calm you were throughout and it was a beautiful, positive and very gentle caesarean birth. I had tears when I watched you reaction as your baby first cried. Just beautiful."
Another said: "Amazing! I want this next time."
According to England's National Health Service (NHS), natural caesareans are meant to reduce complications after birth and increase bonding between parents and baby.
These benefits are not surprising considering natural C-sections allow babies to be born at their own pace. This gives infants time to adjust to breathing external air and helps prevent future respiratory issues.
The infant's umbilical cord isn't cut immediately after birth as well, unlike traditional C-sections where the baby is quickly whisked away for cleaning. Waiting a few moments before cutting the cord allows parents to bask in the birth experience.
According to The Telegraph, Britain will begin a trial of natural caesareans this summer to prove the benefits of the procedure.
Also on HuffPost
C-Section Birth Photo Series