An NDP MP accused Prime Minister Justin Trudeau of committing the "furthest thing from a feminist act" after he backed into a female member during a heated moment in the House of Commons Wednesday.
The interaction sparked a confrontation with Thomas Mulcair, with the NDP leader yelling at Trudeau: "You elbowed a woman. You're pathetic, pathetic."
Moments earlier, Trudeau made his way across the aisle to Official Opposition Whip Gord Brown to escort him through a group of NDP MPs and toward his seat.
He did so by taking his arm to lead him through the standing MPs, backing into NDP MP Ruth Ellen Brosseau who stood behind him.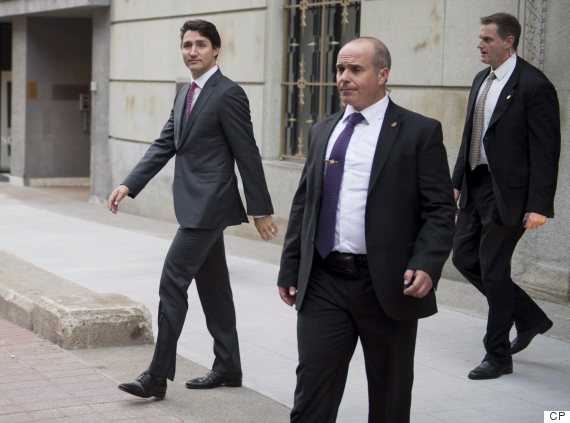 Prime Minister Justin Trudeau leaves a reception commemorating the Komagata Maru apology on May 18, 2016 in Ottawa. (Photo: Justin Tang/The Canadian Press)
Members had gathered in the House to vote on a motion to limit debate on Bill C-14, the government's controversial assisted-dying bill. The motion was defeated, 172-137.
Brousseau left the chamber after the shortly after the skirmish and did not vote.
" I was elbowed in the chest by the prime minister and then I had to leave."
— Ruth Ellen Brosseau
The Quebec MP for Berthier-Maskinonge later described the incident from her point of view, accusing the prime minister of elbowing her in the chest.
"I was standing in the centre talking to some colleagues. I was elbowed in the chest by the prime minister and then I had to leave. It was very overwhelming and so I left the chamber to go and sit in the lobby. I missed the vote because of this," she said.
Her colleague, NDP MP Niki Ashton, condemned Trudeau for his actions.
I have never seen anything like it. I witnessed the PM push one of my colleagues into my desk in the House of Commons. #disgusting

— Niki Ashton (@nikiashton) May 18, 2016
"I am ashamed, as somebody who sits in this House, to have been witness to the person who holds the highest position in our country, the highest elected position, to have done such an act in this House," Ashton said.
She later weaponized Trudeau's reputation as a supporter of women against him, saying he behaved in a way that's the "furthest thing from a feminist act."
Other MPs weighed in on the frenzy in the House:
Never thought I would see a PM cross the floor to force another MP and elbow a woman MP out of the way #cdnpolihttps://t.co/9tLGPoAlJl

— Nathan Cullen (@nathancullen) May 18, 2016
A woman was assaulted in House of Commons by PM we just joined third world unruly parliaments A bad example to our young #yyc #cdnpoli

— Hon Deepak Obhrai pc (@deepakobhrai) May 18, 2016
In my travels round the world I witnessed unruly parliaments comment cdn parliament was civilized today we lost that respect #yyc #cdnpoli

— Hon Deepak Obhrai pc (@deepakobhrai) May 18, 2016
Things are very very bad in the House. Nearly a physical altercation between Mulcair and Trudeau. #cdnpoli

— Elizabeth May (@ElizabethMay) May 18, 2016
Green Party Elizabeth May said that opposition MPs were guilty of "mischief" in attempts to block party whips to slow down the vote.
Earlier, the prime minister admitted that he came in "physical contact" with a member and apologized for his actions. He added that he didn't realize Brousseau was behind him.
"I apologize for that unreservedly and I look for opportunities to make amends directly to the member and to any members who feel negatively impacted by this exchange and intervention because I take responsibility," he said.
With files from The Canadian Press
Also on HuffPost:
Trudeau At The United Nations