Getty Images/iStockphoto
Calgary police released statistics Wednesday that suggest domestic violence in the city is growing at an alarming pace.
Police in the city received nearly 19,000 domestic conflict calls last year. Approximately 3,000 of those calls involved domestic violence, which is up 10 per cent from 2014, and up 24 per cent over a five-year average.
Police officials say the increase may be linked to Alberta's economic downturn.
"We know there is a connection between increased unemployment and increased domestic violence as people who are already prone to violence are home more and are facing significant stressors – and that is likely what we are seeing in Calgary," Staff Sgt. Rob Davidson of the domestic conflict unit said in a release.
Click to enlarge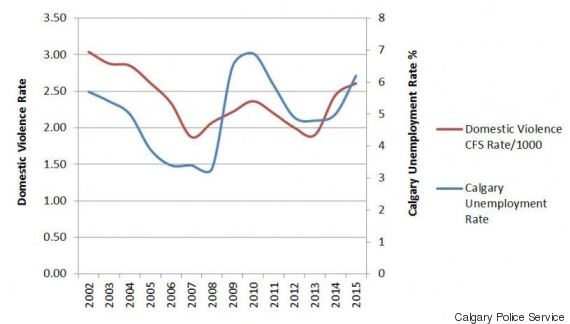 This chart shows the loose correlation between domestic violence and unemployment in Calgary. (Photo: Calgary Police Service)
Davidson clarified that while unemployment can be one of the factors pushing someone to turn to violence, only aggressors themselves are to blame.
"In no way does it excuse it," Davidson told CBC.
Notably, not only is the amount of domestic violence in the city increasing, but the level of violence is as well.
In 2014, domestic violence calls involving weapons increased by 70 per cent.
Police believe the number of domestic violence calls is set to grow even more in 2016.
In the first three months of this year, officers received over 40 per cent more calls than usual for that time period.
"We know there is a connection between increased unemployment and increased domestic violence."
"Domestic violence is a very real problem in our community and it crosses all neighbourhoods, age groups, ethnicities, religions and economic statuses," said Davidson.
Four-out-of-five victims of domestic conflict calls were women, police reported.
Thirty-four officers and four civilian staff work in Calgary's domestic conflict unit. The team works with partner agencies to help about 2,400 families every year.
Jerilyn Dressler, Director of Operations at the Calgary Distress Centre, says that it's important for those dealing with problems at home to reach out.
"Call someone, talk to someone and reach out for help and talk about what's going on for you, because there is support available," Dressler said in an interview with 660 News.
If you are experiencing abuse or physical violence, you can contact the following organizations for support:

Canada's National Domestic Violence Hotline at 1-800-799-7233
Connect Family & Sexual Abuse Network at 403-237-5888 (Toll Free: 1-877-237-5888)
Calgary's 24-hour Family Violence Helpline at 403-234-SAFE (7233), or 211
Calgary Police Service non-emergency line at 403-266-1234
Also on HuffPost:
30 Shocking Domestic Violence Statistics