OTTAWA — The man in charge of Canada's consular services says he's considering legislation to ensure that all Canadians detained, kidnapped, or in general need of help abroad are treated equally by government officials.
Omar Alghabra, the parliamentary secretary for foreign affairs with responsibilities for consular affairs, told The Huffington Post Canada that he often lies awake at night thinking about the Canadians who are in trouble overseas.
"There are very difficult situations and cases where you want to do everything you can — and we are — to get our citizens out of difficult situations, or trouble, and with limited, sometimes, options," he said.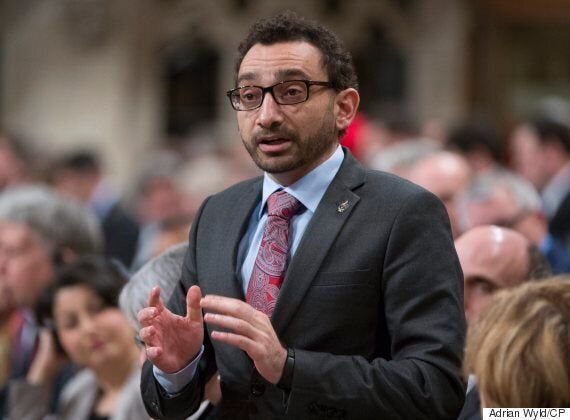 Liberal MP Omar Alghabra rises in the House of Commons on Monday April 11, 2016. (Photo: Adrian Wyld/CP)
Families are often, understandably, concerned, very frustrated, and want a quick resolution to the matter, he said. "So it is difficult, and it really keeps me up at night, some nights, trying to find ways … to be creative.
"We don't just want to use a passive wait-and-see approach, we want to be proactive and involved in examining all options to help our citizens who are in a difficult situations abroad," Alghabra added.
Recently, Gar Pardy, the former head of Canada's consular services; and Mohamed Fahmy, the journalist who spent two years in an Egyptian prison, and Amnesty International have called on the new government to introduce legislation guaranteeing equal consular treatment for all citizens in need abroad.
Alghabra thinks it's an "interesting" idea.
"The department and I are examining that option and, obviously, there are arguments on both sides, but I feel it is a worthy proposition that needs careful and thoughtful examination," he told HuffPost.
Perception of 'political favouritism' with last government
The parliamentary secretary said he welcomes input, especially from family members, about the service they received, the support they may have wished was available but wasn't.
"There are a lot of lessons that can be learned," he said.
"Ultimately, our goal is to enhance the assistance. We want to make sure that we not only do it more effectively but that we do it consistently."
During its 10 years in office, Alghabra said, "there was certainly a perception of "political favouritism" in the Conservative government's approach to consular affairs.
"That isn't helpful for Canadians' having confidence in our system and in the government's ability to defend their rights when they are abroad."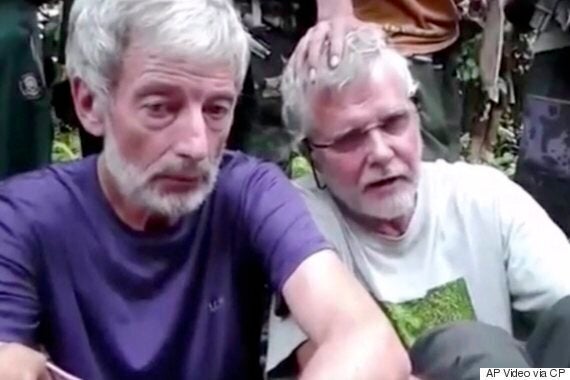 This image made from undated militant video, shows Canadians John Ridsdel, right, and Robert Hall. (Photo: AP Video)
Approximately 1,437 Canadians are detained abroad, figures from Global Affairs Canada indicate. In 2015, more than 249,800 consular files were opened. Ninety-six cases involved child abductions. Fifteen were kidnappings.
Some cases make headlines, as Alison Azer has in urging Prime Minister Justin Trudeau Tuesday to bring her four children back from Iran, where her ex-husband abducted them. Other recent, tragic and horrific incidents include the April beheading of John Ridsdel, who was kidnapped along with fellow Canadian Robert Hall last September in the Philippines by Abu Sayyaf. Hall's kidnappers want $16 million or, they say, he'll suffer the same fate.
Many consular cases, however, don't get as much attention — from the public or the government.
Lawyer Lorne Waldman said his client, Bashir Makthal, is the perfect example of the Tories' discretionary use of consular assistance.
Makthal was arrested at the Kenya-Somali border in 2006 and secretly flown to Ethiopia where in 2009 he was convicted of inciting rebellion, aiding an armed opposition group, and being a member of a group with ties to terrorism, according to local reports. Although his grandfather was a leader of the separatist Ogaden National Liberation Front, Makthal denies that he has any personal ties to the organization.
"All Canadians, regardless of their political belief, have a right to expect that their state will do everything in their power to provide them consular services, especially if they are unjustly detained."
"At the beginning, the Canadian government did nothing," Waldman said. "For a period of time, when John Baird was minister of foreign affairs, he took a personal interest in the file and did try to obtain Mr. Makthal's return." The government publicly floated the idea of a prisoner transfer, but after Baird left the post, Waldman said, the case was "completely neglected" again.
Since the Liberals' election, he's met with officials and believes they have taken a "renewed" interest in the file. "I'm hopeful things will move quickly now."
"Under the former Conservative government, the role they played, the positions they took, and the degree to which they intervened depended very much on their political perceptions," Waldman added. "That is completely unacceptable. All Canadians, regardless of their political belief, have a right to expect that their state will do everything in their power to provide them consular services, especially if they are unjustly detained."
Several high-profile cases illustrated the lengths to which the Tories went to deny services to some Canadians. The government prevented Abousfian Abdelrazik, a Montreal man who was arrested in Sudan in 2003 but never charged, from returning to Canada — by refusing to grant him travel papers. It wasn't until a federal court judge ruled in 2009 that Ottawa had violated his constitutional rights that he was able to return home.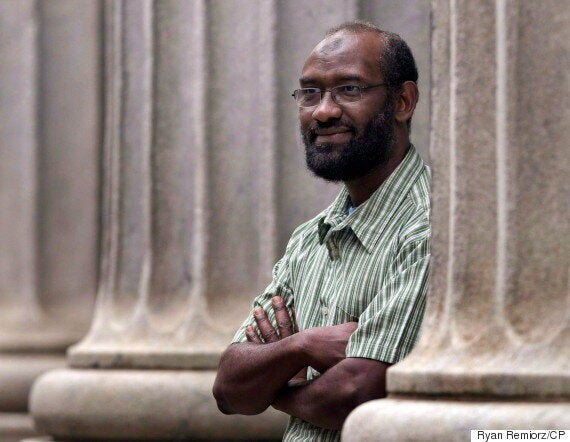 Abousfian Abdelrazik poses for a photo, June 10, 2010 in Montreal. (Photo: Ryan Remiorz/CP)
In 2010, the Supreme Court found that the Canadian government had participated in an illegal process to deprive Omar Khadr of his constitutional rights to liberty and security of the person. But the top court declined to order him returned, citing the Crown prerogative over foreign relations, and left it up to the government to decide how to remedy his situation.
It's that claim on use of "Crown prerogative" in consular matters that Pardy and Fahmy want to see Ottawa drop.
In his report, "Canadians Abroad," published by the Rideau Institute and the Canadian Centre for Policy Alternatives, Pardy writes that by keeping the Crown prerogative, the government retains the ability to act as it deems appropriate on any matters not governed by statutes, such as consular affairs.
He cites a 1993 consular manual stating that services are provided "as a matter of discretion" and that "no one is entitled to claim such services as a matter of legal right."
Denial of assistance was rarely used before the Tories came to office, Pardy told HuffPost.
Tories didn't abide by international norms
Over the years, the Conservatives chipped away at the philosophy of service previously present in the department, said the now retired Pardy, who set up the 24-hour help line for Canadians in trouble abroad.
The Tory government refused to abide by international norms — such as when it decided in 2007 to stop requesting clemency for Canadians on death row — and subjected the provision of service to political judgments, he said.
"They took decision-making in this area all to the minister's office and even into the PMO."
In 2013, the Tories may have further limited their responsibility on consular matters when they repealed the Department of Foreign Affairs and International Trade Act (DFAITA) and replaced it with a new act, changing one crucial word regarding the minister's responsibilities on consular affairs. The old act stated: "the Minister shall conduct all diplomatic and consular relations on behalf of Canada." The new act replaced the "shall" with "is to." In 2004, a federal court judge found Khadr had a legitimate expectation of consular service because of that word "shall" in the DFAITA.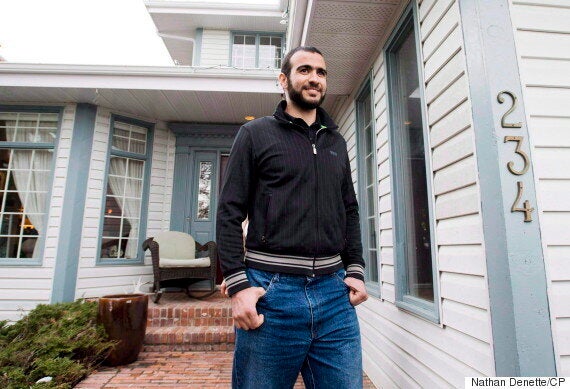 Omar Khadr walks out the front door of his lawyer Dennis Edney's home to speak the media in Edmonton, Thursday, May 7, 2015. (Photo: Nathan Denette/CP)
"There is clearly an obligation to carry out these functions and not merely an authorization to do so," justice Konrad von Finckenstein wrote at the time.
Fahmy told HuffPost he feels the Canadian consular team in Egypt wanted to do more to help his case but were "shackled by Ottawa's decisions" and didn't have the liberty to share information that he and his family badly needed about meetings with the Egyptian government.
"I was literally sitting in a cell, trying to put together ideas of what could be done in order to improve the situation rather than just finger-pointing," said the former Al-Jazeera reporter, who was locked up on trumped-up charges and beaten by officials while in custody.
He was shocked to learn that other countries, such as Germany and the United States, have laws and transparent policies about the provision of consular services, he said.
Fahmy's ideas formed the basis of a "Protection Charter" he drafted with Amnesty International outlining 13 ways the government could ensure that services are provided to all in need.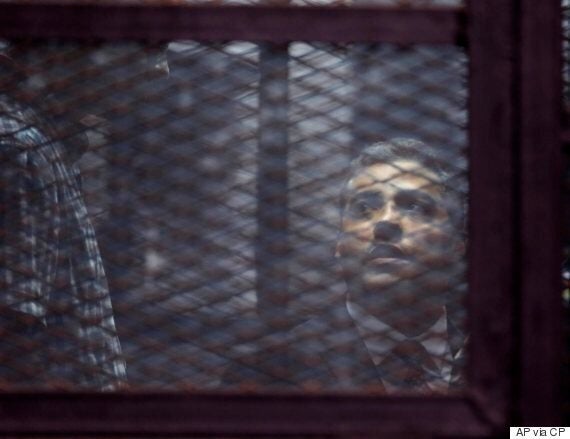 Mohamed Fahmy listens to his verdict in a soundproof glass cage inside a makeshift courtroom in Tora prison in Cairo, Egypt on Saturday, Aug. 29, 2015. (Photo: AP via CP)
Outlining protections in law could, however, be a risky proposition for the government.
It could open the door to legal action from individuals or family members who feel officials haven't done everything possible to help their loved one, Alghabra acknowledged.
"That's why we are taking this very seriously," the parliamentary secretary said.
"If we were to proceed in this direction — and I'm not sure what direction we are going to take — it has to be done carefully and thoughtfully and take into account other ramifications that may not be visible in the short term but could have serious ramifications down the road."
Pardy hopes a new law might place an obligation on the government to do more to help Canadians, including those kidnapped.
"The elimination of Crown prerogative will not guarantee a result; it would guarantee an equality of service," he said.
It might prevent what some have suggested was favouritism towards Canadian diplomats Robert Fowler and Louis Guay, for whom documents suggest a $1-million ransom was paid to al-Qaeda. Then-prime minister Stephen Harper denied paying any ransom, but Pardy suggests that something is always exchanged when people get out alive.
"Ransoms are always paid," he told HuffPost. "Groups like Abu Sayyaf, or Islamic State, they don't suddenly take somebody and then decide they made a mistake here and they are going to let somebody go," he said. "The question is how does that ransom get paid, and by whom, under what conditions — it's not always money that is paid."
Freelance journalist Amanda Lindhout, who was kidnapped in Somalia with a friend, writes in her book, "A House in the Sky," that the Canadian government offered to pay $250,000 for her return, a figure spurned by her kidnappers. In the end, their families hired a British firm and paid more than $1 million to secure her safety.
After Ridsdel's beheading, Trudeau told Canadians that the federal government "does not and will not, pay ransom to terrorists, directly or indirectly."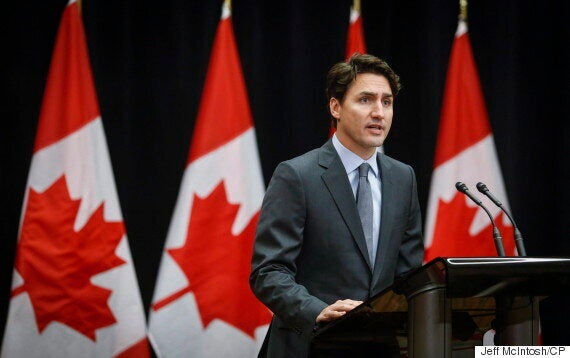 Prime Minister Justin Trudeau makes a statement to the media about the death of John Ridsdel, in Kananaskis, Alta., Monday, April 25, 2016. (Photo: Jeff McIntosh/CP)
Pardy thinks that statement was ill-conceived.
"Governments make that kind of a statement after they've resolved the situation. You don't say it upfront while there are negotiations going on to try to save somebody's life," he said.
"Just about everyone in Europe, they accept that there is no alternative to the idea of getting somebody released in these situations other than through making the arrangements for some payment or some political promise," he added.
After dealing with kidnappings for 25 years, mostly in Colombia, Pardy said he doesn't believe ransom payments make any difference. "Unless there is an effort to solve the political issues that give rise to kidnappings, the kidnappings will go on, regardless of whether payments get paid or not. What happens is that a lot of innocent people get killed if you try to apply that [no ransoms] policy," he said.
Pardy said he decided to write a report to give the new Liberal government ideas to improve consular services. Among some of his suggestions, he calls for the government to:
be more transparent with consular cases and not to hide behind the Privacy Act;
seek agreements with countries to respect Canadian citizenship in cases of dual citizenship,
request clemency for all Canadians sentenced to death,
add an oversight role on consular cases, possibly an independent ombudsman.
Alghabra suggests that he isn't opposed to the idea but is treading with caution.
"In principle, who would be against independent review?" he said. At the same time, though, he said, the government is focused on changes that make things more effective, not that could eventually paralyze the system."
In the same vein, he said, privacy needs to be respected at times.
"You would never hear me argue against transparency in public debate in any matter. And I think the families of Canadians who are detained abroad, … and it is well understood that when their loved one is in trouble, they need to do whatever they think they can to assist their loved one. But there are times, there are cases, where, depending on the media attention, depending on language [transparency] can be hurtful to that case."
"Just about everyone in Europe, they accept that there is no alternative to the idea of getting somebody released in these situations other than through making the arrangements for some payment or some political promise."
Alghabra wouldn't discuss specific or current cases, but by way of an example, he suggested that if there were discussions with a foreign government about a person being detained and the other government felt the case was of high enough profile for Canada because of public attention, negotiators might think they could demand greater concessions.
Transparency could also, if the other government felt the public discourse was offensive, limit face-saving abilities to do subtle moves to make a quick resolution to the matter, he said.
Several of Pardy's suggestions overlap with Fahmy's and Amnesty International's — and some have already been acted upon by the Liberal government.
Foreign Affairs Minister Stéphane Dion announced last month, for example, that the federal government was taking the first steps towards signing the Optional Protocol to the Convention on Torture.
'A Canadian is a Canadian is a Canadian'
In December, shortly after being elected, the Liberals introduced legislation to revoke certain parts of the Conservatives' bill C-24, to ensure that dual citizens are not discriminated against on the basis of having a second citizenship.
Alghabra said he wants to ensure dual citizens have the same rights to access consular services from Canadian officials — even when they are in a country they also call home. But that task might be more difficult, he said, because there doesn't appear to be a global appetite to re-open the Vienna convention on consular matters.
"We need to keep our eye on the ball and work towards it and in the meantime we can sign bilateral agreements with other countries who would respect our citizens rights to access consular services from our government even if they have dual citizenship," he said.
Canada needs to reaffirm "our principle position that a Canadian is a Canadian is a Canadian. No matter what citizenship they have and no matter what country they are in trouble with," he said.
Fahmy said he believes the Liberal government is listening.
"I think the government is responsive to initiatives like mine and Gar Pardy's and to other people who are coming in with genuine hope for change," he said. "This is a positive atmosphere."
Enshrining consular services into law, he said, should be a "no-brainer" for Trudeau. "[He] has become extremely recognized in the world as someone who is changing Canada's image — especially after what he did with the Syrians," Fahmy said, referring to the prime minister's welcome of refugees.
Alghabra said the Liberals are showing a different approach.
"At the end of the day, the objective is to help Canadians the best we can."
Disclosure: Althia Raj worked in the consular division of the Department of Foreign Affairs in 2001-2002 when Gar Pardy headed the division.