It's about that time of the year again when we say "hello!" to patio season!
With so many amazing patio choices around downtown Toronto, it can be difficult to choose just one place to eat or drink on a beautiful day. You can dine with a view of the city, or in a quiet, sunny corner outside of the main drag — it's good to have options, right?
Fortunately, we have the whole summer ahead of us, so let's get started on the best Toronto patios!
We took some of the work out of your next patio hunt by rounding up 10 of our favourites for you. So all you have to do is get ready to kick back, relax, take in the view and enjoy a summer beverage or two!
El Catrin is a Mexican-inspired restaurant in the Distillery District known for its bright pops of colour and beautiful scenery. Take a trip off the beaten path to explore one of Toronto's popular and historic sites, and order some margaritas and a side of tacos while you're at it!
This restaurant is located on the 51st floor of the Manulife Centre at Bay and Bloor, and has been named after its 180 degree view of the city skyline. The view isn't the only thing you should come here for; the restaurant serves its own bottled cocktails with fresh herbs and made-in-house sodas, and the pizza is to die for!
Located right on Toronto's waterfront, this patio sometimes has a long waiting list, but it is totally worth it. Relax in Muskoka chairs set up next to Lake Ontario, and enjoy a pint of beer or a large glass of their blood orange radler. Either way, your time spent here is guaranteed to be relaxing and delicious — the next best thing to a cottage getaway.
The Fifth Grill & Terrace is a hidden gem for summer dining. This casual-fancy spot is perfect for a romantic date night, and you really can't beat the atmosphere. And the food? Let's just say the steak frites is at the top of our list. Be sure to check out their Summerlicious menu for some more affordable specials.
Pizza and a view — now that's what we call a great Saturday night! Gusto 101 is located right in the heart of Toronto's entertainment district. Head here for some carbs, while taking in the sunset, before going to one of the area's many clubs or lounges for the rest of the evening. You won't be disappointed!
This nightclub is a favourite in Toronto's entertainment district, and it also has a beautiful patio with enchanting views. Before the lights get low and the music gets loud, the venue sometimes hosts early evening barbecues with affordable mixed drinks on the spacious, second-floor patio. It's a great spot to relax and unwind after work!
This spot located in the heart of Yorkville is a well-known, affordable restaurant that serves up classic pub grub with tasty cocktails, beer and wine. There are two different patios on the second and third floors of the venue, both of which are open year-round, but are uncovered during the summer months.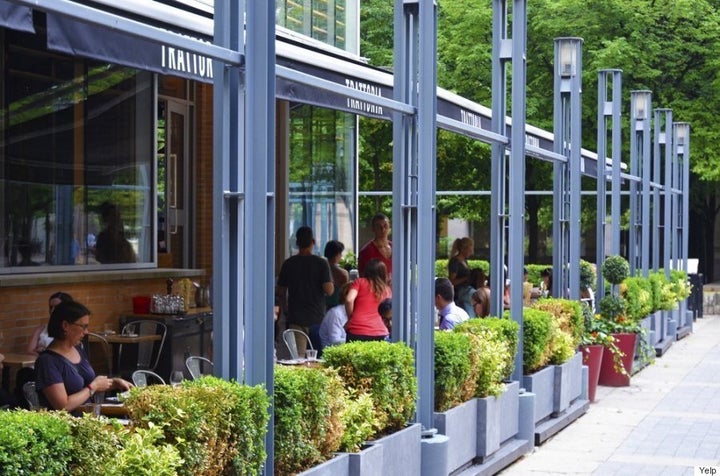 You would never know that this restaurant is located inside the Eaton Centre from its patio! Indulge in some rich and delectable Italian food — everything from beef carpaccio to calamari fritti and beef short rib crostinis! Hungry yet? Trattoria Mercatto also has some delicious cocktails on their menu that are perfect for people watching on their back patio.
This French-inspired bistro is a must-visit! La Societe's giant, two-storey summer patio is located along the posh strip of Bloor Street West, with shops like Chanel and Louis Vuitton for neighbours. Enjoy summer negronis and watermelon juleps.
While this restaurant has three different locations around the city, the Bloor Street restaurant in the Annex has one of the best street-side patios in the city, and is ideal for crowd watching. Order a wood-fired oven pizza and kick back with one of their signature martinis while basking in the sun.