Democratic Institutions Minister Maryam Monsef faced sustained pressure from Conservatives this week over her government's refusal to hold a referendum on electoral reform.
On Friday, she tried to turn the tables by pouncing on two words — "little changes" – uttered by a backbencher in question period.
Conservatives maintain that the government is trying to rig the next election by letting a Liberal-stacked committee propose a new voting system that will be passed via its majority in the House of Commons, without Canadians getting the final say.
In words that were nearly identical to what she said in the House earlier this week, Monsef defended her position by providing a refresher on "historical events."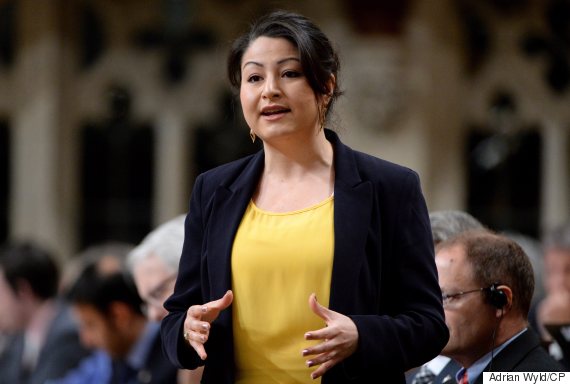 Democratic Institutions Minister Maryam Monsef speaks during question period on May 20, 2016. (Photo: Adrian Wyld/CP)
"In 1872, Canada adopted a secret ballot. In 1918, women began to be extended the franchise. In 1920, the office of the Chief Electoral Officer was established. In 1960, voting rights were extended to indigenous persons. And in 1970, the franchise was extended to those under the age of 21," she said.
"All of these changes occurred without a referendum. It took leadership. It took a willingness on all members to work together. Let's repeat history and do this right."
'Little changes' contested
Alberta Tory MP Martin Shields then rose to make the point that governments in three provinces – Ontario, British Columbia, and Prince Edward Island – took proposed electoral system changes to citizens in a referendum. In each case, voters opted for the status quo of first-past-the-post.
"Every other time that Canadian governments have changed, not just added in little changes, they tried to use the referendum and it didn't work at the ballot box," he said.
"If the members opposite believe that extending the right to vote to women is a little change, it appears we are on completely different pages."
— Maryam Monsef
Shields said the new government was out to "fundamentally" alter the system, and wondered why Liberals would do so "unilaterally" without first letting Canadians vote on it.
"If the members opposite believe that extending the right to vote to women is a little change, it appears we are on completely different pages," Monsef said. "If the members opposite believe extending that right to indigenous persons is a little change, we need to have a different conversation."
"Wow," shouted MP Kellie Leitch, who is running for the Conservative leadership. "Apologize. Wow."
Shields then said while he might see things "simply," he added his constituents are very smart and want their say in a referendum.
'Identity politics': Kenney
Veteran Tory MP Jason Kenney harkened back to a moment on Twitter last week after Monsef wondered in the House how a referendum would help the government "hear from those who don't traditionally engage in the democratic process."
He listed young Canadians, women, those with disabilities, and indigenous peoples as examples.
Kenney said Liberals were invoking "identity politics" because they are losing the argument.
1/ Min Monsef recently called concerns about a pay-to-play LPC fundraiser "a vicious attack on an indigenous leader" pic.twitter.com/ndhReYojRq

— Jason Kenney (@jkenney) May 13, 2016
2/ Now she claims a referendum would exclude women, indigenous people, the disabled, "those w/ exceptionalities" etc https://t.co/9CLFwTnl2t

— Jason Kenney (@jkenney) May 13, 2016
3/ Min. Monsef has learned the first rule of the campus left: when losing an argument, invoke identity politics, no matter how irrationally.

— Jason Kenney (@jkenney) May 13, 2016
Monsef faced call to apologize last month
This is not the first time that Monsef has raised the ire of the Conservatives by suggesting that party might be in some way insensitive to women and indigenous peoples.
Last month, Monsef rose on an opposition motion calling on Justice Minister Jody Wilson-Raybould to admit it was inappropriate of her to attend a controversial fundraiser at a Toronto law firm, and return the money.
Monsef called the motion a "vicious and unfounded attack on an indigenous leader, a woman who has and continues to serve her nation honourably."
Tory MP Todd Doherty demanded an apology, saying he was offended that Monsef "brought race" into the debate. Monsef offered no expression of regret.
&nbsp
"The fact is that our Attorney General is a woman. The fact is that our Attorney General is of proud indigenous descent," she said at the time.
"That is nothing to feel outraged about. Instead, I urge the member to consider celebrating it."
Doherty said Monsef not only didn't apologize but "inflamed the situation by making further comments about racism."
ALSO ON HUFFPOST:
Maryam Monsef, Democratic Institutions Minister