More than one-third of Canadian households were unable to pay their bills at some point in the past year, a sign that rising housing costs are biting into Canadians' finances, Manulife Bank says.
Ever-larger mortgages mean many Canadians are at risk of retiring house-rich but cash-poor, Manulife said in a homeowner debt survey released Tuesday. That means many will face difficult choices like retiring later than planned or selling their home and moving into a smaller one.
Fully 37 per cent of respondents said they were unable to pay a bill at least once in the past year, little changed from the survey carried out last fall. But the amount of mortgage debt the average Canadian mortgage holder carries grew 3.4 per cent in half a year — to $181,000 this spring, from $175,000 in last fall's survey.
Vancouverites are, not surprisingly, the most heavily mortgaged homeowners in the country, carrying an average debt of $259,000. Homeowners in Calgary and Edmonton were the next most heavily indebted, with $217,000 of debt on average. Torontonians were third, with $194,000 in debt, on average.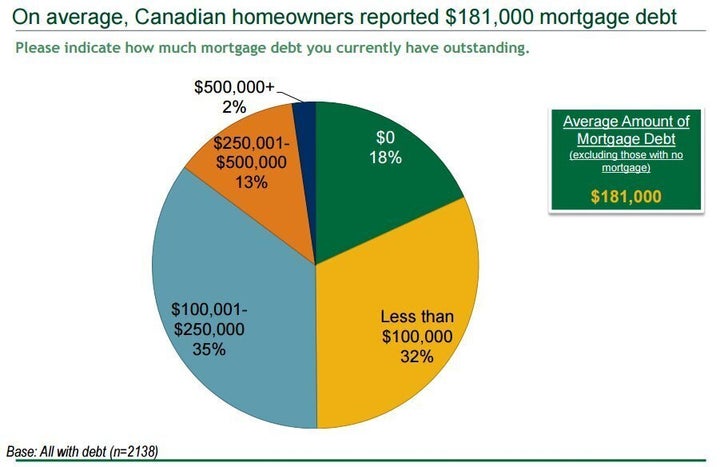 You may not get to retire in your dream home
Perhaps most tellingly, only four in 10 respondents said they felt comfortable they had enough savings to retire.
Canadians have set paying off their debts as a top priority, but "they must also find a balance between debt repayment and saving for retirement so they don't end up house-rich and asset poor," Manulife Bank President and CEO Rick Lunny said in a statement.
Those who do find themselves lacking cash in retirement may have to make some tough choices, Manulife says, among them:
Retire later than originally planned
Accept a lower standard of living in retirement
Move to a less expensive home and use extra equity to fund retirement
Borrow against their home equity
"If you reach retirement with significant home equity but limited savings you may need to adjust your thinking if you wish to stay in your current home," Lunny said. "Your home is your castle, as they say, but it's also a significant financial asset that you should take into account when planning your retirement income."
The Manulife survey polled 2,373 Canadian homeowners between the age of 20 and 59, and with a minimum household income of $50,000. It was carried out by Environics Research from Feb. 3 to Feb. 20, 2016.