There's a reason why people call Disney World the place where dreams come true.
In 1993, eight-year-old Prince Harry visited the Magic Kingdom with his mom, Princess Diana, and brother, Prince William, and became the daredevil he always wanted to be.
"We went around Space Mountain 12 or 14 times, so much so that my policeman had to get off and vomit over the bench!" the 31-year-old explained to People. "When you are that age you are invincible. And you slowly become uninvincible as you start breaking things!"
Prince Harry is back at Walt Disney World this week, but years ago he rode Splash Mountain with his mom. :) pic.twitter.com/p5RWIeIrcq

— Jeff Brooks (@BANQVE) May 9, 2016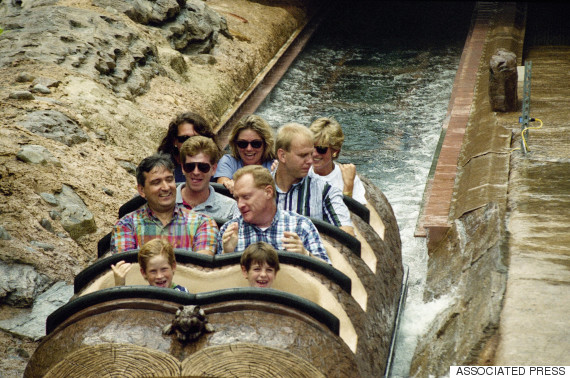 Now 23 years later, the Prince has returned to relive his childhood memories.
While visiting Orlando, Florida for his 2016 Invictus Games on Monday, Harry made a special trip to Walt Disney World to ride Splash Mountain once again. Naturally, all the fun was caught on camera as Prince Harry went over the ride's 50-foot drop.
PRINCE HARRY DISNEY'S STILL A SCREAM … Just Like It Was with Mom https://t.co/yKyKVnOHYZ pic.twitter.com/peevEg46cU

— Rumor Bus (@RumorBus) May 24, 2016
Prince Harry told CBS that one of the big reasons for bringing the Invictus Games to Orlando was so that he could visit the theme park next door. "We had happy memories," he said, recalling his first trip to Disney World. "It was absolutely fantastic."
When speaking of his Invictus Games, a Paralympic-style multi-sport event he created, Harry said: "It's a huge shame [my mom's] not here, but I hope she'd be incredibly proud of what we managed to achieve."
Harry was just 12 years old when his mom, Princess Diana, tragically passed away in a car crash. Since the loss of his mom, the Prince has dedicated himself to helping orphans in the African country of Lesotho.
In 2015, Harry revealed that it was his mother who inspired him to get involved with charity work.
"It's something that our mother did a lot of," he told the Mirror UK, "and that's the time that you really get to learn, you get the experiences and you actually get the honest truth out of people."
ALSO ON HUFFPOST:
Prince Harry's Style Evolution