Alberta's controversial farm safety bill is set to be examined by consultants next month — but only 20 per cent of group are actual farm workers.
Agriculture Minister Oneil Carlier and Labour Minister Christina Gray announced on Friday the appointees to working groups that will consult on Bill 6.
Bill 6 sparked massive protests last fall after a series of miscommunication between the NDP government and Alberta farmers. It was finally passed in December, after the government moved to limit debate on the legislation.
Six working groups will consult on the bill, also known as the Enhanced Protection for Farm and Ranch Workers Act.
Farmers under represented in consultations
Just 20 per cent of the 78 people named to the working groups are farmers. None of the six group chairs are farmers, producers or ranchers. Those selected to lead each group are lawyers, mediators or facilitators, a move that has irked members of Alberta's farm community.
"It's about big labour, as we said. And we knew that this working would come out sort of one-sided, a little one-sided, but this is just ridiculous," farmer and Alberta vice-president of Western Canadian Wheat Growers Stephen Vandervalk told News Talk 770.
"There's as many union people in there, not just people, but people who work for actual unions, than there are actual farmers."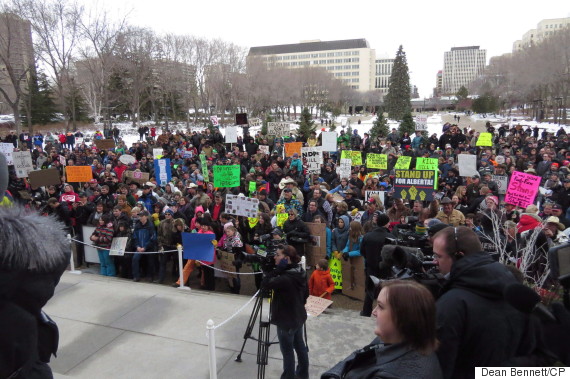 Farmers and farm families gather at the Alberta legislature in December to protest the province's farm safety legislation. (Photo: Dean Bennett/CP)
Hundreds of Alberta farmers and their families took to social media to dispute the decision.
"Same old story — farmers do not get a voice on this bill, but unions are there in full force. Unbelievable," wrote one member of a closed Facebook group of farmers against the bill.
"This is an absolute joke," added another.
"It's important that those who are impacted by the regulation have input in it."
Alberta Premier Rachel Notley insists opponents have misunderstood the point of the groups. The premier said they're intended to seed productive conversations with the help of a mediator, according to CBC News.
The premier added that many board members, although not farmers themselves, do own or manage farms.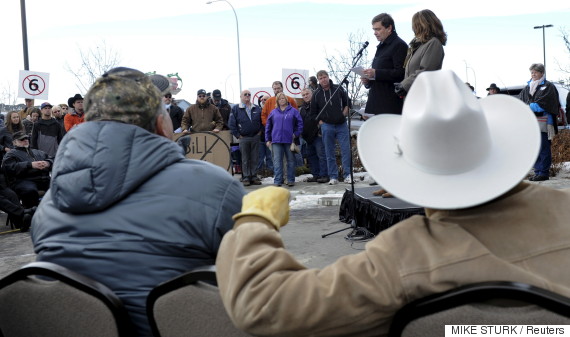 Alberta Agriculture Minister Oneil Carlier and former Labour Minister Lori Sigurdson speak to about 500 protestors, mostly farmers and ranchers, in Okotoks in December. (Photo: Mike Sturk/Reuters)
Gregory Sears, chairman of the board of directors of the Alberta Canola Producers Commission, said he hopes those who work in the agriculture industry have a voice in the consultations.
"It's clear that the government will be moving forward with regulation and it's important that those who are impacted by the regulation have input in it," Sears, a member of one of the working groups, said in an interview with the Grande Prairie Daily Herald Tribune.
The bill requires that all paid farm employees be covered by the Workers' Compensation Board.
After a miscommunication with farmers that led to protests in the fall, the government clarified that family members and volunteers on farms would be exempt from the coverage.
Also on HuffPost: