TORONTO — On the eve of the Conservative party's convention in Vancouver, a Draft Brad Wall campaign has begun urging party members to encourage Saskatchewan's premier to join the Tory leadership race.
In a letter addressed to Conservatives, a group calling itself "Concerned Middle-Class Canadians" says party members need to pick a leader who can grow the movement to its greatest strength, demonstrate to Canadians that their values and aspirations are reflected in their party, and defeat Prime Minister Justin Trudeau's Liberals in 2019.
Nobody, they say, can do that but Wall.
Wall, who last month was re-elected with 62.4 per cent of the popular vote, is the only potential leadership candidate who has led a government, they write.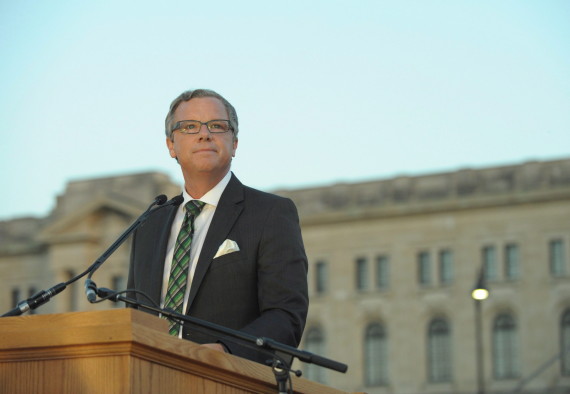 Premier Brad Wall addresses a crowd at the Saskatchewan Legislature in Regina, May 16, 2016. (Photo: Mark Taylor/CP)
The popular premier has not only led a government with a strong record of fiscal discipline, they add, he has upheld the core values of his party's supporters, repeatedly won the confidence of voters and championed hardworking men and women in the energy sectors, farming and ranching.
"He is the kind of leader who will speak frankly about his religious roots while maintaining strong support across diverse ethnic and religious communities in his province," they write. "He is a compassionate conservative who can defeat Justin.
"Be honest with yourself: Is there any other Conservative in our country today who you could imagine winning not just a large segment, but a majority of Canadian voters?
Who can convince Canadians that our party cares about them, their families, and our shared future? And who, on winning power, would be certain to lead our country with integrity, ability, and strength?," the group asks.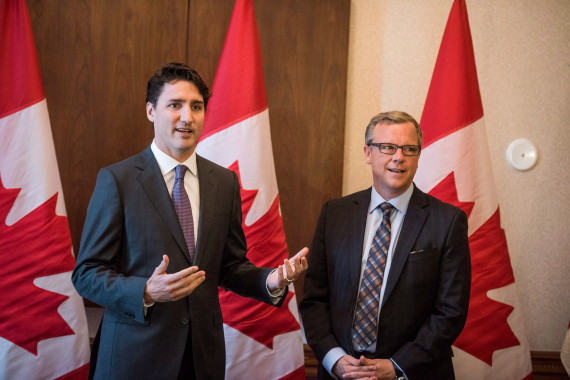 Prime Minister Justin Trudeau addresses the press at a meeting with Saskatchewan Premiere Brad Wall in Saskatoon on Wednesday, April 27, 2016. (Photo: Matt Smith/CP)
Wall may not speak French, they add, but he can learn it.
Wall might be understandably conflicted about seeking the leadership of the Conservative Party of Canada right after the people of Saskatchewan gave him a majority government and a four-year mandate, so the group says he needs to be encouraged.
The group of concerned Conservatives did not immediately respond to a media request for an interview. Neither did Wall's office.
After his re-election in April, Wall told reporters: "I'm not running federally."
Wall routinely tops public opinion surveys for the most popular provincial leader.
Three confirmed candidates for Tory leader
The Conservative party convention kicks off in Vancouver on Thursday with a speech by former prime minister Stephen Harper.
Interim leader Rona Ambrose will sit down with the three announced leadership candidates — Kellie Leitch, Michael Chong and Maxime Bernier — on Friday. Several other potential contenders, including TV personality Kevin O'Leary, MPs Jason Kenney, Lisa Raitt, Tony Clement, Andrew Scheer and former MP Peter MacKay, have let their names float but have not joined the race — yet.
The chatter at the convention is expected to focus heavily on who the next Tory leader will be. Members vote on May 27, 2017.
Also on HuffPost
Least, Most Popular Premiers (May 2016)