Not only does Vancouver lay claim to the title of Canada's highest average home price, but the Vancouver area can also claim three-quarters of the homes among Canada's 12 most expensive properties.
Real estate firm Point2 Homes came up with a list of the Great White North's priciest homes. Only two of them fall outside British Columbia — and only three fall outside what you can reasonably call the "Vancouver area."
Canada's Most Expensive Homes (May, 2016)



They include heritage-style mansions, innovative designs and renovated waterfront properties with boat houses and infinity pools.
You may not be able to afford one of these — but images attached to their listings give people an idea of where the richest live in the most expensive parts of this country.
Here are Canada's 12 most expensive listings, as listed by Point2 Homes:
1-3838 Cypress Street, Vancouver, B.C. — $44,999,000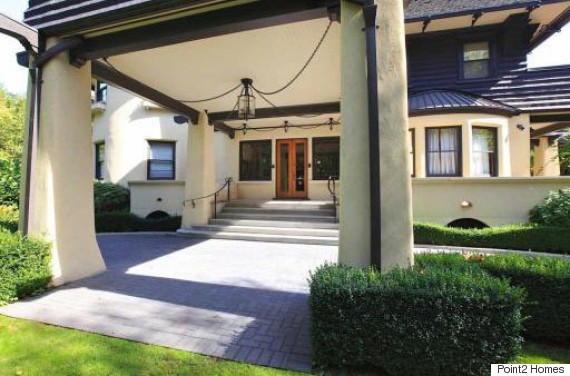 A single listing that encompasses four strata lots and three homes in total.
One of the houses was the residence of former B.C. Lt.-Gov. Eric Hamber, and it's a stunning structure with large rooms for entertaining, wine cellars, an elevator and even a parkade decorated in an art deco style.
4351 Erwin Drive, West Vancouver, B.C. — $42,800,000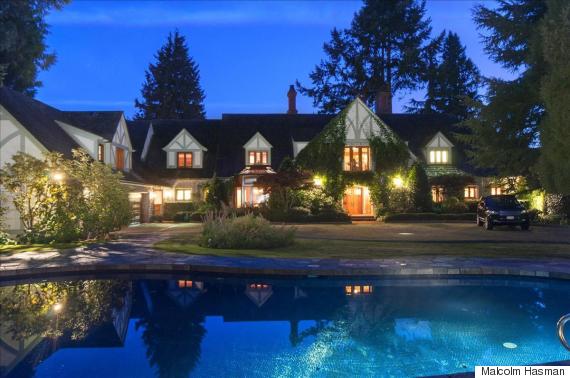 An English mansion that sits on a .78-acre waterfront estate with stunning views of Vancouver's Stanley Park and Vancouver Island. The home has seven bedrooms including a master suite, a sitting room, two guest suites and a housekeeper's suite. There's also a massive entrance hall, as well as a gourmet kitchen, and outdoor swimming pool and a private beach.
3490 Pine Crescent, Vancouver, B.C. — $38,900,000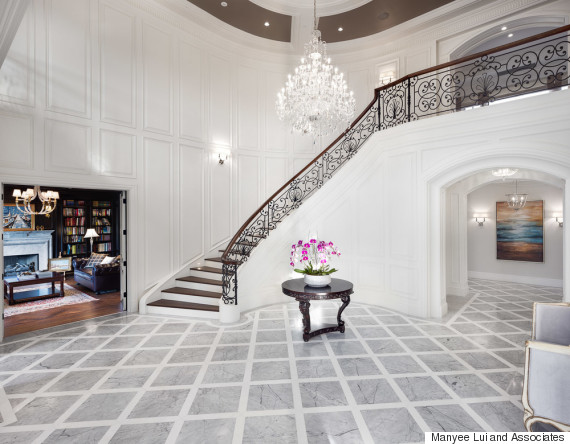 Vancouver's posh, west side Shaughnessy neighbourhood is home to this beauty.
It's an 11,000-square-foot mansion with a foyer whose ceiling is 21 feet high. The home also has a breakfast nook and wok room. There's an indoor pool, sauna and hot tub, a wine cellar and a living space for a nanny. The garage has enough space for four cars.
5365 Seaside Place, West Vancouver, B.C. — $38 Million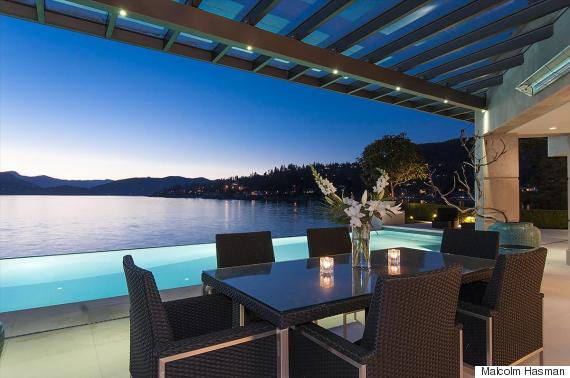 The infinity pool. It's the ultimate status symbol for the 21st century aristocrat. And you'll find one at this dazzling West Vancouver home that underwent an extensive renovation between 2004 and 2008.
You could talk about its glass walls, its master suite with a water side terrace, the 14-foot marble kitchen island. But the infinity pool is a particularly striking feature, giving waders spectacular views of the ocean. And that's without even mentioning the boat house, which has room enough to fit a 32-foot vessel.
4726 Belmont Avenue, Vancouver, B.C. — $35 Million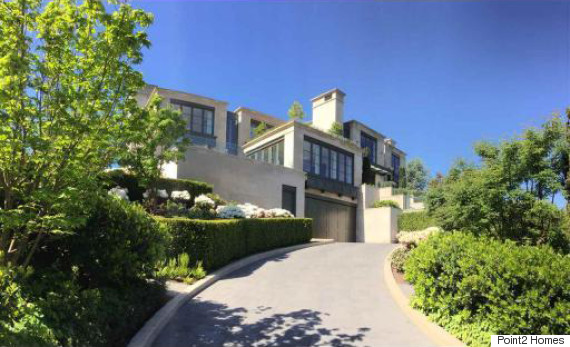 Architect Howard Airey designed this 9,693-sq.-ft. home in Vancouver's affluent Point Grey neighbourhood. Outdoor features include a swimming pool, water fountain and fire pit, and the home itself offers four bedrooms, six full/half bathrooms, and a master suite that has its own deck, fireplace and views of the water and the mountains.
242004 Range Road 32, Calgary, Alta. — $30 Million
Take a trip over the Rocky Mountains into Calgary and you'll find Kestrel Ridge Farm in their foothills. It's a gorgeous, 160-acre equestrian estate that marks the last area of untouched plateau before you head into the mountains, says a Sotheby's listing.
The main house is a log home, 11,800-sq.-ft. in size, with six bedrooms, six bathrooms and a garage that can fit six vehicles. There's also an indoor swimming pool measuring 15 feet by 30 feet, a greenhouse, an outdoor tennis court, and a 3,700-sq.-ft. guest house. Then, of course, there's the equestrian facility, which has an indoor arena and more than 20 stalls for horses. And that's without even mentioning the riding trails all around the property.
10 High Point Road, North York, Ont. — $28,888,000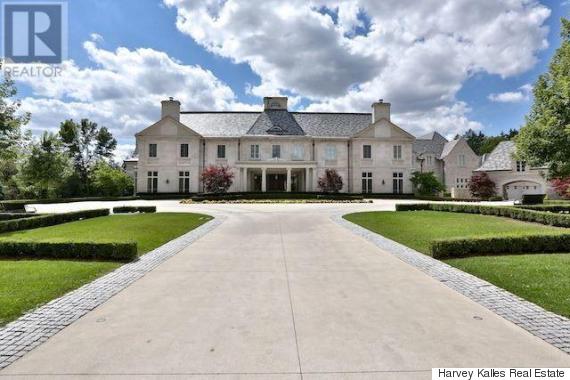 An approximately 24,000-sq.-ft. gated mansion located on a two-acre property located in the Toronto suburb of North York. There's a ballroom and lounge with enough room for 100 people, perfect for holding a soiree worthy of royalty.
2165 123 Street, Surrey, B.C. — $28,888,000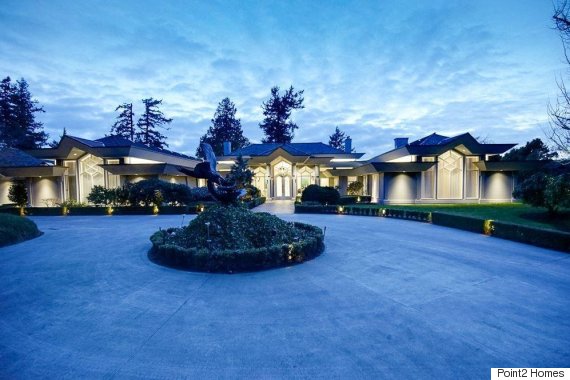 Surrey. It's a Vancouver suburb not often recognized for its luxurious homes. But this one's an exception. It's a 2.85-acre estate with a five-bedroom home that has gorgeous views of B.C.'s Gulf Islands. It has a pool, hot tub, sauna and playground all its own.
529 Swanwick Road, Metchosin, B.C. — $28,888,000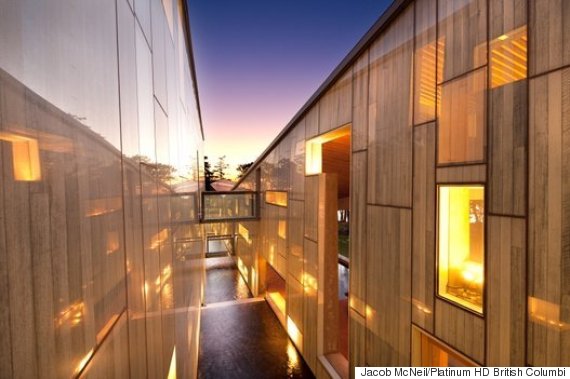 Architect Marko Simsic designed this innovative home that sits on a 67-acre oceanfront lot. The aim of the design is to blend into the landscape. But this architectural wonder, which won its designer a Lieutenant-Governor's Award in 2008, also comes with a number of terraces, a pool, a boathouse, tennis courts and a guest house.
3998 Granville Street, Vancouver, B.C. — $28,800,000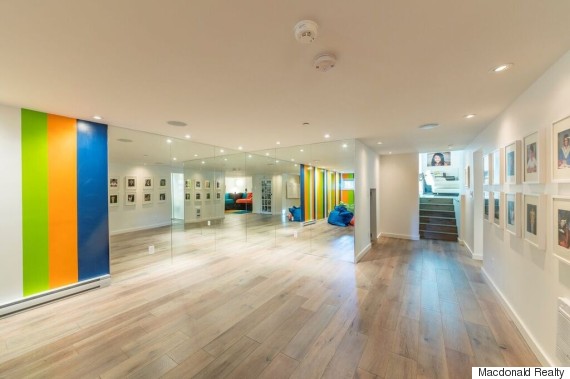 Home, or art gallery? The wide open spaces of this beauty will leave you asking that very question. The home has 5,350 square feet of living space, with three bedrooms and bathrooms, and it won a 2016 Georgie Award for its design.
But the listing is also being promoted as a "fully buildable lot" where you can plunk down your own design. With spaces like this, it's hard to see why a buyer wouldn't want what's already there.
12133 No. 3 Road, Richmond, B.C. — $26 Million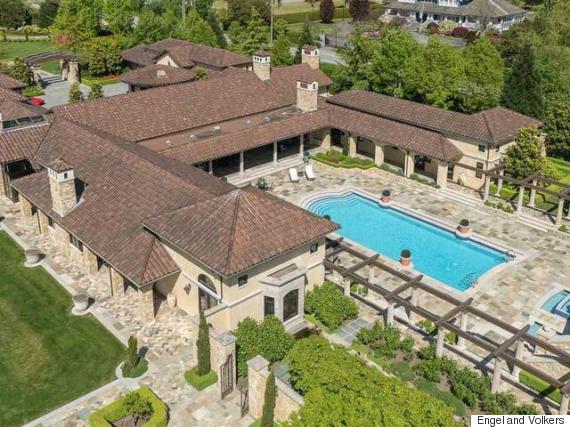 A Tuscan-style home in Richmond, a suburb of Vancouver. Visitors to the property are greeted by a gated entrance, beyond which they'll find fountains and gardens before coming into a foyer that has limestone walls.
It sits on an 18.09-acre lot and has koi ponds, a tennis court, a greenhouse, its own barn and a six-car garage.
5240 Marine Drive, West Vancouver, B.C. — $25 Million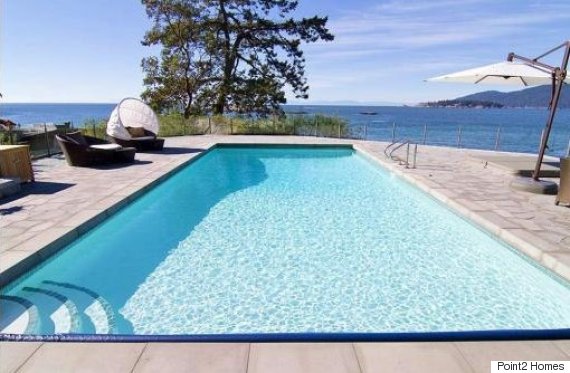 A Tudor home in ritzy West Vancouver. This 7,700-sq.-ft. home comes with a 40-foot by 20-foot heated pool and private beach access.