A new poll suggests the job approval rating of Newfoundland and Labrador Premier Dwight Ball has plummeted 43 percentage points since February, making him the least popular provincial leader in Canada.
According to the latest quarterly survey from the Angus Reid Institute, Ball sits at just 17 per cent approval almost six months after capturing a majority government.
Seventy-seven per cent of those surveyed now disapprove of the job he's doing.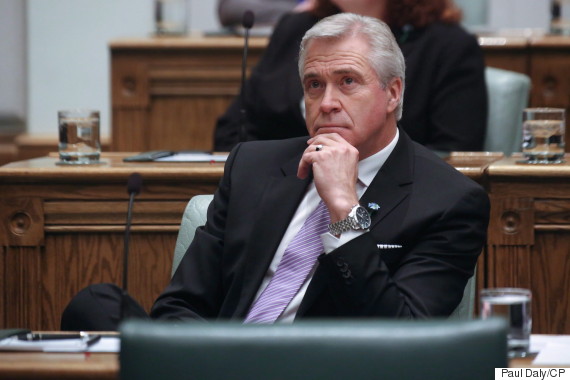 Newfoundland and Labrador Premier Dwight Ball listens to the Speech from the Throne in the House of Assembly in St. John's on March 8, 2016. (Photo: Paul Daly/The Canadian Press)
With the province's economic situation deteriorating, Ball brought forward an austerity budget last month that introduced a number of cuts and fees, including an eyebrow-raising tax on books.
Just last week, Liberal MHA Paul Lane was booted from the government caucus after he said he could not vote for the spending plan because of a controversial deficit reduction levy. The province announced Wednesday that it will scale back the levy, thanks to some funding relief from the federal government.
In February, Ball was riding high with 60 per cent support, making him the second-most popular provincial leader. The honeymoon, it seems, is over.
New premier riding high
And that might be a lesson for new Manitoba Premier Brian Pallister, who defeated Greg Selinger in April. Selinger previously held the title of Canada's least popular premier.
Pallister's 46 per cent approval in the poll makes him the second-most popular premier, but those numbers could also change once he gets down into the business of governing. He and his Progressive Conservative cabinet were sworn in as the new government on May 3.
Story continues after slideshow:
According to the Angus Reid Institute, Ball, Alberta Premier Rachel Notley, and Nova Scotia Stephen McNeil all posted majority approval ratings in their first quarters after coming into office.
Perennial top dog, Saskatchewan Premier Brad Wall, remains the most popular provincial leader with 66 per cent approval.
McNeil now boasts 41 per cent support. Notley's rating is virtually unchanged from the winter at 32 per cent approval, despite some high praise for her performance during the Fort McMurray crisis.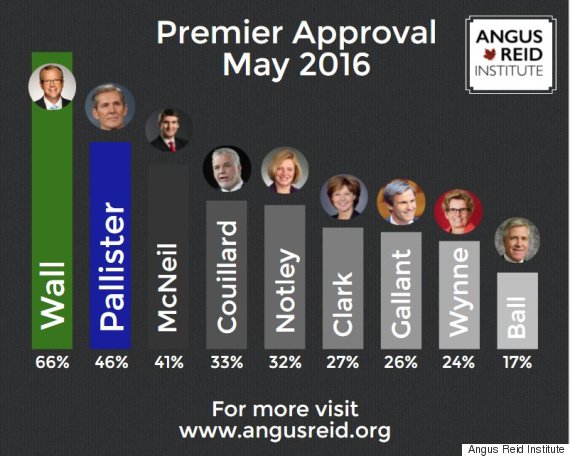 (Photo: Angus Reid Institute)
British Columbia Premier Christy Clark is down about four points to sit at 27 per cent approval, perhaps related to questions about the $50,000 stipend she receives from her party on top of her salary.
Quebec Premier Phillipe Couillard is at 33 per cent support, while New Brunswick's Brian Gallant has dropped seven points to 26 per cent.
The approval rating of Ontario Premier Kathleen Wynne, which has steadily slid since 2014, now sits at 24 per cent. Wynne has faced controversy in recent months over her party's political fundraising.
Only Ball, it seems, is keeping Wynne from the dubious distinction of being Canada's least popular premier.
The Angus Reid Institute does not test the approval rating of Prince Edward Island Premier Wade MacLauchlan because the sample size for that province is too small.
The survey was conducted online among 5,300 Angus Reid Forum panelists between May 6 to 16. Similar surveys have a margin of error of two per cent, 19 times out of 20.
With a file from The Canadian Press