People who are afraid of snakes should definitely avoid Narcisse, Man. every spring.
That's when tens of thousands of red-sided garter snakes come out of their winter hibernation dens — creating an area with the most snakes in the world, according to the Manitoba government.
For a few weeks, anywhere from 50,000 to 75,000 snakes emerge from the limestone to begin the mating season, reports The Weather Network. The much larger females release a pheromone to help attract the males in large "mating balls."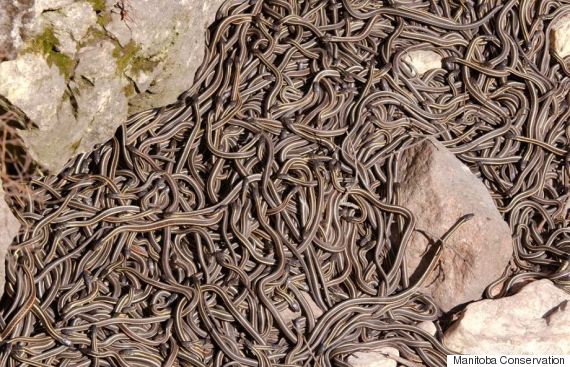 The male red-sided garter snakes follow the scent of pheromones to find the females. (Photo: Manitoba Conservation)
The females then migrate to the swamps to feed on mostly frogs and leeches. They can store sperm for years until they're healthy enough to give birth.
All the snakes return to the same dens in September, where they live off the stored fat until next spring's mating season.
Watch the video above for the amazing sight.
Follow The Huffington Post Canada on Facebook, Twitter, and Instagram.
Also on HuffPost
Hibernating Snakes Rescued In Delta, B.C.