CP
More than a year after Target abruptly announced it's leaving Canada, the Minneapolis-based retailer continues to face fallout from its northern misadventure.
A California law firm says it has launched an investigation into "possible violations of [U.S.] federal securities laws" in Target's Canadian expansion. It doesn't allege the retailer broke any laws — only that it is investigating the possibility.
"Beginning on February 27, 2013, Target repeatedly presented a positive outlook concerning its current and projected operations in Canada, including issuing strong financial and operational guidance for fiscal 2013," law firm Glancy Prongay & Murray says in a press statement.
"However, the company allegedly failed to disclose to investors that Target's Canadian expansion had encountered significant operational problems."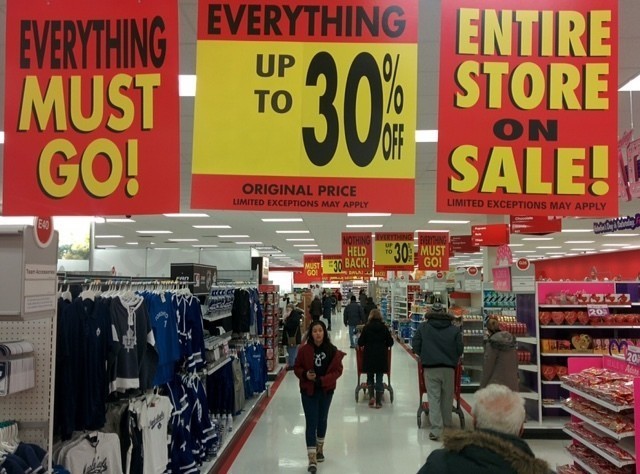 A Canadian target location advertises a going-out-of-business sale after the company's January, 2015, announcement it's shutting down in Canada. A California law firm says it is looking into possible violations of U.S. securities laws over how Target communicated its Canadian problems to investors. (Canadian Press photo)
Those operational problems culminated in January, 2015, when Target Canada filed for creditor protection and announced it was closing down all 133 Canadian locations it had opened over the past few years.
Some 17,600 Canadian employees were left out of work, and the company took a US$5.4-billion loss on the failed Canadian expansion.
The retailer had struggled particularly with supply-chain problems that often left shelves empty at its Canadian stores.
"Target investors suffered harm after the Company's share price declined in value due to the slow revelation of the company's underperformance," the law firm alleges. It urges Target investors to contact the firm.
Target Corp. told BNN it disputes the allegation.
Earlier on HuffPost:
Target Canada's Empty Shelves