George Rose via Getty Images
A number of ursine encounters have prompted officials to issue bear warnings around western Alberta.
Alberta Parks posted a warning this week after a grizzly sidled up to a tent full of campers.
"It looks as if the bear had stepped on the side of the tent and then stepped off, leaving a couple of tear marks in the tent," wildlife ecologist John Paczkowski told the Rocky Mountain Outlook.
The warning covers the campgrounds of Boulton Creek, Lower Lake and Interlakes, all in Kananaskis Country.
Bears break into cabins
There is also a bear warning in place for Jasper National Park, where two grizzlies broke into cabins last week in search of food.
Bear attacks in Alberta are rare. A larger concern for park officials is having to relocate bears that become accustomed to human contact.
If a bear becomes dependent on food left behind by people, officials usually try to relocate the animal, which is costly and can create issues with other bears' territories.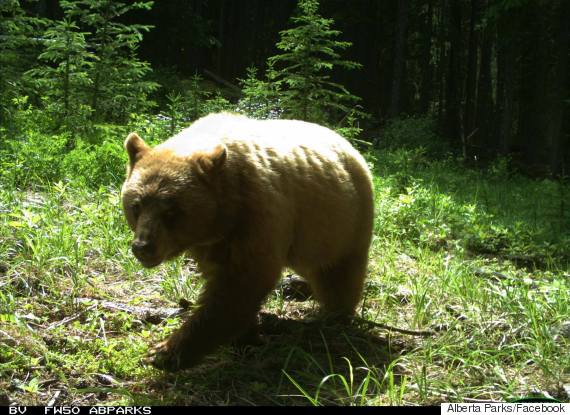 A trail camera near Canmore captured this photo of a brown black bear last summer. (Photo: Alberta Parks/Facebook)
Alberta Parks suggests campers carefully store their food, make lots of noise and travel in groups, keep pets on leash and carry bear spray.
Parks Canada has also moved to take some precautions, closing or restricting access to three regions: Sinclair Canyon, McArthur Creek Valley and Odaray Prospect and Plateau.
The area around Banff and Kootenay National Parks has had 25 bear sightings in the last two weeks, including a mother grizzly visiting a picnic area with her cubs.
"People need to be aware, especially people who are coming on tour buses," said Jon Stuart-Smith, a Parks Canada wildlife specialist, in an interview with the Calgary Sun. He added there have been reports of people feeding bears in the province.
Also on HuffPost:
Alberta Grizzly Bears In The Rockies