Kay Jewelers have proudly been going around for years proclaiming "every kiss begins with Kay." But after hearing one women's horrific experience with the diamond retailer, we're starting to think every kiss may begin with katastrophe.
In a report by Buzzfeed, Chrissy Clarius shares the tale about her 14-karat white-gold engagement ring from the jeweller. Purchasing the $4299.99 ring in 2010 from a Kay Jewelers in Maryland, Clarius was given a certificate of authenticity from Gemological Science International, an organization that grades Kay's diamonds before they are sold.

During one of her routine 6-month ring inspections, Clarius told Buzzfeed that her ring came back feeling different. Cue the horror. She asked Kay employers to check the diamond's certification number, yet they couldn't find it, claiming a number was never inscribed in the ring.
After getting it inspected by two different jewelers, she learned the setting was not a diamond at all, but rather a moissanite, "a common, more-affordable alternative to diamonds," according to Refinery29.

And apparently, Clarius isn't the only customer at Kay's to have had her diamond misplaced.
On Kay's Facebook page, many women are are claiming their diamonds were also lost or damaged.
"December we got engaged, it is now [M]ay and my engagement ring has been in 4 times for repairs, loose and lost diamonds, each repair takes to weeks. So in 12 week period I have been without my ring for 8 of those weeks. So they offer to make one in my size. I say OK (7wks til our wedding) now I'm notified they won't have it ready for our wedding day," one commenter wrote.
Another remarked how her diamond was mislabelled.
"My fiancé was sold a diamond that was advertised as an i1 diamond, when we had some concerns about multiple bubbles inside of it, we called corporate. Corporate informed us that the diamond was really an i2," she wrote.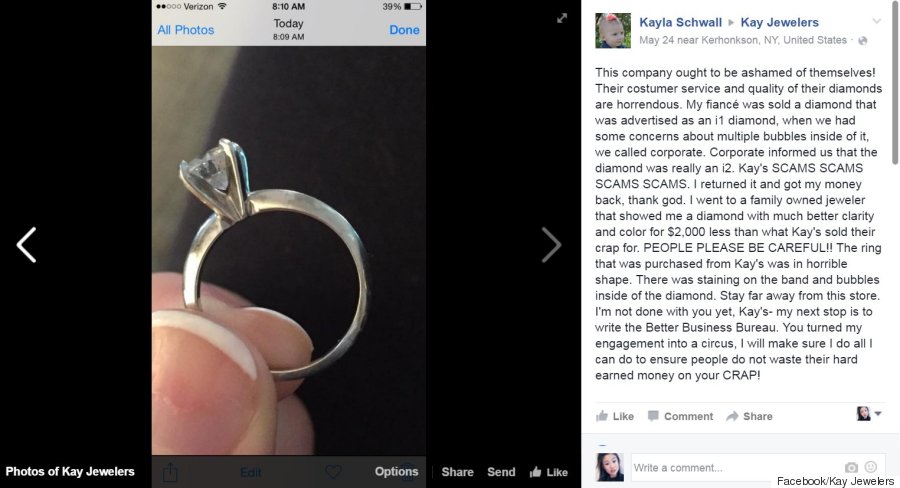 In a statement to Refinery29, Kay Jewelers said they are taking these claims very seriously and that the company is actively reviewing this issue.
The statement read:
"When a guest brings their jewelry in for repair or service, it is diamond tested before it is sent out and when it is returned. As part of this process, our team members plot the guest's diamond and map out each unique characteristic. Our teams review these unique details with the guest both when they come in to drop their jewelry off and when they pick up their jewelry following service or repair to ensure their confidence in the safe return of their original piece."
As for Clarius, Buzzfeed reports she has been told Kay Jewelers' loss protection team is looking into the case. She has also filed a police report in Baltimore County.
Follow Huffington Post Canada Style on Pinterest, Facebook and Twitter!
Also on HuffPost