TORONTO — As Liberals gather in Winnipeg on Thursday for a party convention — the first get-together since the Grits won a majority last October and their first convention in more than 10 years as a party in power — the mood may not be entirely festive.
A new proposal by Prime Minister Justin Trudeau and his leadership team to change the party's constitution is already creating rifts with some in the party who feel it's a centralizing document that shifts power away from the grassroots.
Last month, Trudeau called on Liberals to be "courageous" in doing something that he said would move the party and the country forward. He urged them to show, once again, that the Liberal party wasn't afraid to challenge the status quo — by doing away with party memberships.
"Our proposed new Liberal constitution represents a once-in-a-generation opportunity to modernize, strengthen, and open up our movement for the 21st century," Trudeau said.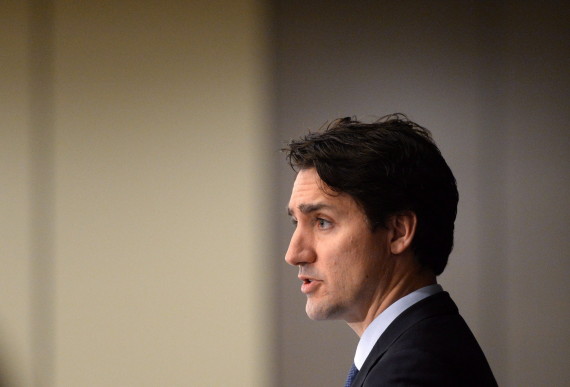 Prime Minister Justin Trudeau takes part in the National Prayer Breakfast in Ottawa, May 19, 2016. (Photo: Sean Kilpatrick/CP)
The new constitution calls for the adoption of a no-fee "Registered Liberal" designation. Party president Anna Gainey told The Huffington Post Canada that the move won't cost the party a dime and will open the party's doors to people reluctant to spend $10 for a membership.
"The objective is really to open up the party and have more registered Liberals and more people engaged, and more volunteers, and ideally more donors and less restrictions to entry," she said.
The party points to its adoption in 2012 of a "supporter class" category that allowed non-members to vote for the party leader, a decision credited with bringing 300,000 people to the party, helping beef up the Grits' membership database and electoral machine, and increasing fundraising.
The proposed new constitution does more than eliminate paid memberships, however, it also centralizes decision-making, taking it away from the riding associations by, for example, eliminating various committees and giving the leader more say on election readiness. It also seems to prevent riding associations from raising and spending their own money without the central party's approval. And it would prevent local ridings from suggesting amendments to the party's constitution.
Reasons for changes unclear: riding president
Tom Addison, the riding president for Kingston and the Islands, told The Hill Times in an article published earlier this week that he believes the proposed constitution is an attempt to centralize power within a small circle around the leader.
In a phone interview from Winnipeg, Addison told HuffPost he doesn't really know why Trudeau and his team are suggesting this document now, without a real chance for membership input, and why it needs to be done right away.
"I hear the talk — what I can only describe as spin — the talk about modernization, and inclusiveness, and all these marketing words, but I'm not hearing substantive reasons why this needs to be done," he said.
"Obviously, we were doing things pretty well if we could win a national election, so I'm not sure what needs to be changed so quickly and urgently."
"We just won a national election coming from the worst showing in our party's history — the first time we've ever been a third-place party," he added. "We won in ridings we've never won before, and I don't see the justification, at this point, [for] changing the constitution and changing the way the way everything is done.
"Obviously, we were doing things pretty well if we could win a national election, so I'm not sure what needs to be changed so quickly and urgently."
Addison, who is campaigning against the proposal at the convention and is handing out buttons that read "No constitution without consultation," said he hopes the party will withdraw the proposed constitution rather than have a battle on the convention floor.
"I am concerned about the potential scars that could be left in the party if we get into a fight," he said. "That is not my desire in any way, shape, or form. I've been a Liberal since 1972."
The new constitution is thin and tasks the National Board with establishing bylaws for how the party is run — without having members, as a whole, ratify the new rules until the Liberals' next convention scheduled for 2018.
Something that also troubles, Addison who feels members are given an opportunity to vote on only "half the document."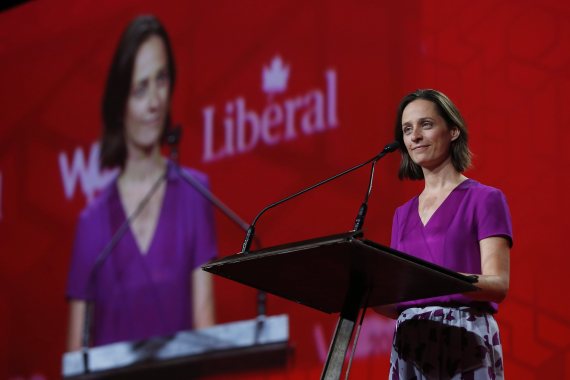 Liberal president Anna Gainey speaks at the opening ceremonies of the 2016 Liberal Biennial Convention Winnipeg, May 26, 2016. (Photo: John Woods/CP)
Gainey, for example, told HuffPost that the party's "intent" isn't to neuter riding associations and that the board will enact bylaws to ensure that doesn't happen.
Measures dealing with financing, she said, are designed to ensure that special accounting teams fulfil the riding associations' obligations regarding financial returns. "It's not in any way to direct or collect [the ridings'] independently raised funds," she said. "We are not taking anything away from the riding associations on financing."
The new document moves the Liberals from 18 constitutions and an 82-page national constitution, to a single constitution, currently at 13 pages, that allows the party to respond more nimbly, she said. Multiple constitutions have overly complicated decision-making, sucking up time and resources on interpreting documents and lining them up against each other to figure out simple things, such as when a nomination meeting should be held, she said. "We are constantly looking at two or three documents to figure out process…. We could be doing other things."
"I have enough faith in the people who will be elected to the national executive."
Some in the party have no problem with new proposal.
Charles Bird, president for Toronto-area riding of Eglinton–Lawrence, readily acknowledged that he doesn't know what the constitution will end up looking like, with the yet-to-be formed bylaws, but he said he isn't concerned. "I have enough faith in the people who will be elected to the national executive," he told HuffPost.
"There is a lot riding on this, in terms of our ability to function as a modern effective party," he said.
"Is it about getting behind the prime minister? Yes, absolutely. But does the package make sense to me as a Liberal? Yes, indeed it does."
Also on HuffPost:
Trudeaus In Japan, G7 Summit