When Canadian designers add Japanese flair to their designs, it's a beautiful thing.
Case in point? Sophie Grégoire Trudeau's outfits on day 4 of Prime Minister Justin Trudeau's visit to Japan for the G7 summit.
On Thursday, Sophie wore a custom-made Tanya Taylor jumpsuit which featured a kimono-style top with V-neckline and baggy sleeves. She paired the colourful one-piece with custom-made green fan earrings by Dean Davidson.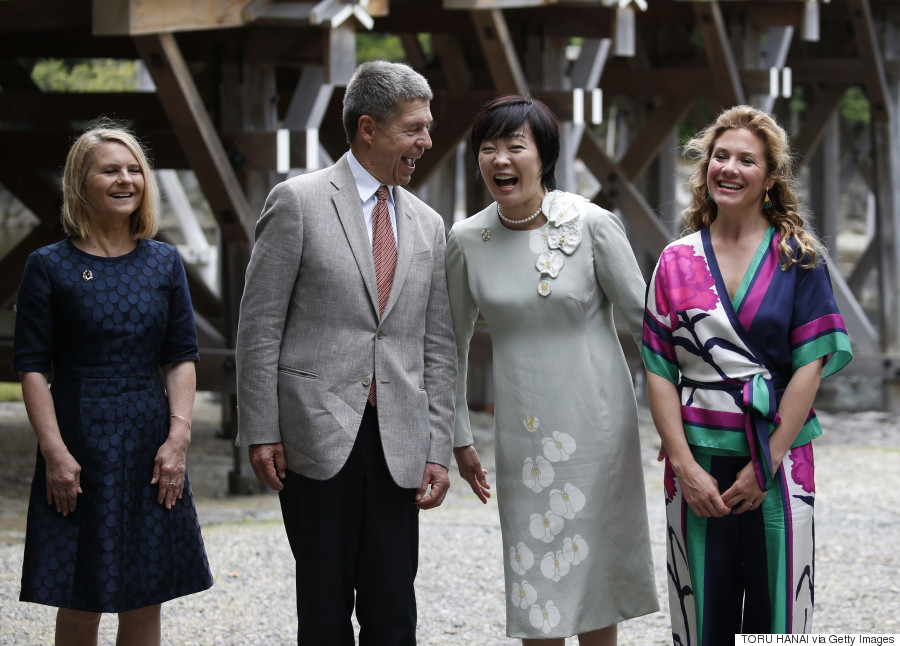 Christiane Juncker (L), wife of European Commission President Jean-Claude Juncker, Joachim Sauer (2nd L), husband of German Chancellor Angela Merkel, Akie Abe (2nd R), wife of Japanese Prime Minister Shinzo Abe and Sophie Grégoire Trudeau, wife of Canada's Prime Minister Justin Trudeau, share a laugh as they pose for a photograph next to Ujibashi bridge during a visit to Ise-Jingu Shrine in the city of Ise in Mie prefecture, on May 26, 2016 on the first day of the G7 leaders summit.
For the cocktail event in the evening, the 41-year-old mother of three donned yet another Japanese-inspired garment, this time custom designed by Wayne Clark. The golden yellow frock hit just below the knee and had long sleeves and a floral motif throughout. Grégoire-Trudeau paired the Canadian design with Zvelle shoes, an orange Mackage bag and Jon de Jong (JdJ) earrings.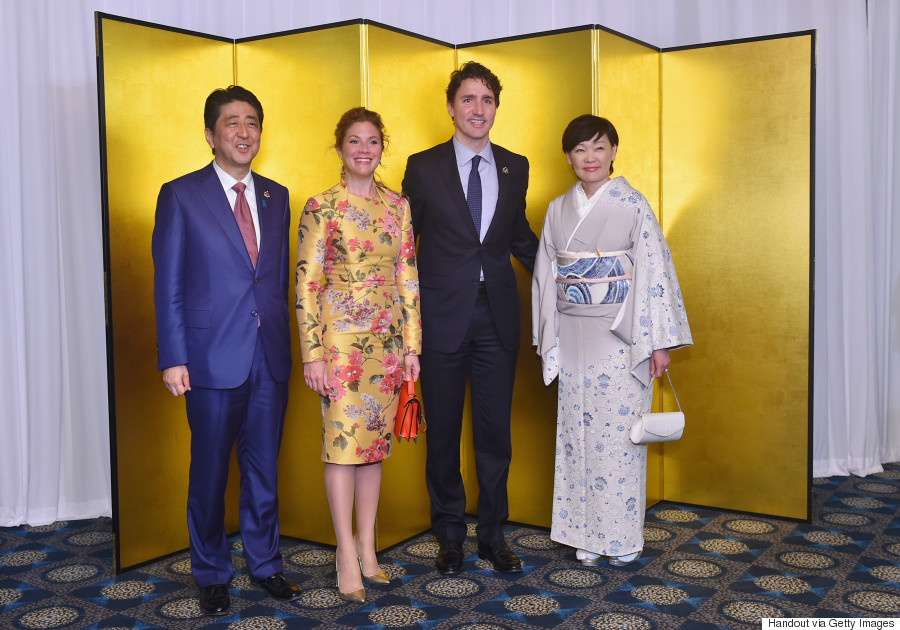 Japanese Prime Minister Shinzo Abe and wife Akie Abe (R), Canadian Prime Minister Justin Trudeau (2nd R) and wife Sophie Grégoire Trudeau (2nd L) attend the cocktail event during the G7 Japan 2016 Ise-Shima summit at the Shima Kanko Hotel on May 26, 2016 in Kashikojima, Japan.
According to Sophie's stylist and friend Jessica Mulroney, the dress code for the Japan trip was very specific.
"Japan is very conservative. The protocol is very specific. Stockings and sleeves at all times," Mulroney told HuffPost Canada Style. "With all the specifications, Canadian designers were able to create some beautiful looks that made her stnad out while still looking respectful and appropriate."
Mulroney also noted it was very important for the prime minister's wife to don solely Canadian-designed pieces.
The G7 summit will continue on May 27.
Follow Huffington Post Canada Style on Pinterest, Facebook and Twitter!
Also on HuffPost