VANCOUVER — Canadians should be asked in a national referendum if they want new pipelines so the issue can be settled once and for all, says businessman and TV personality Kevin O'Leary.
The question should be clear, O'Leary told CPAC's Peter Van Dusen from the Conservative party convention, where he is testing out the waters for a possible leadership bid.
"Do you want to build pipelines to the East to West Coast of this country? Yes or No?' If 51 per cent want to do it, we now have a moral mandate and we don't need to listen to squabbling politicians anymore, and we drive the process through," said O'Leary.
If he runs for the Tory leadership, O'Leary said his message will be focused on government waste and the fiscal direction of the country.
"Frankly, I'm pissed off and I want to do something about it. This is a good place to start," he said.
O'Leary said he bought a Tory membership some 48 hours ago before addressing delegates Friday afternoon as part of the convention's showcase with other potential candidates.
Delegates greeted him warmly but some of his critics, such as Conservative MP Deepak Obhrai, have been forthright in suggesting O'Leary isn't welcome in the Conservative tent.
To them, the TV personality had a pretty clear message:
"Forget about the past, you just lost. That policy doesn't work. That history doesn't work. That message didn't work. This whole party has to reconstitute itself and get in sync with the voting constituency if it ever wants to have a control mandate again," he said.
"Apparently ... I'm leading in the polls. Oh golly, what do I do with that?"
"Many people don't agree with me. I don't care," O'Leary said. "I'm interested in one thing and one thing only: changing the financial and fiscal policy of this country. It's broken, it's incompetent, it's stupid, it's almost physically criminal in some cases. I can't stand seeing my money pissed away, and that's exactly what's happening."
O'Leary became a multimillionaire in 1999 when Mattel acquired his educational software company. He has gone on to a broadcast career as a financial commentator.
To those who fear an O'Leary run would mean a Donald Trump-like candidate in the race, he said he had no interest in selling an divisive message.
"I want this party to be an inclusive party. There's no wall in this country. I'm half Lebanese. I'm half Irish. I was born in Montreal, Canada. The greatest city on earth, in the greatest province in Canada,," he said.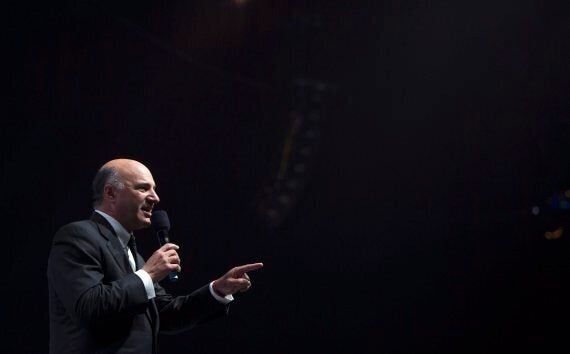 Canadian businessman Kevin O'Leary speaks during the Conservative Party of Canada convention in Vancouver, Friday, May 27, 2016. (Photo: Jonathan Hayward/CP)
The Tories can't "out-Liberal" or "out-kumbaya" Prime Minister Justin Trudeau, nor can they do more "sit-ups or selfies," but they can point out how his economic policy will "fail miserably," he said.
The best thing politicians can do for Canadians is get them jobs, he said.
Despite Obhrai's comments that O'Leary is better suited for the NDP, the outspoken businessman said he feels "warmth and energy everywhere."
He boasted of an ability to reach 2.1 million Canadians weekly on TV, and said he could probably raise money "very quickly" if he wishes.
"Luckily, I have a lot of my own, so to the extent I can use it, I will," O'Leary said.
Canadian election rules prevent wealthy candidates from bankrolling their own campaigns.
O'Leary suggested he is in no rush to launch his leadership bid. It's far too early for anyone to announce now, he said. But, he also told CPAC that he might decide to play the role of a kingmaker and help anoint somebody else.
"I could also make one of these people leader," he said, pointing to the convention floor. "Apparently ... I'm leading the polls. Oh golly, what do I do with that?"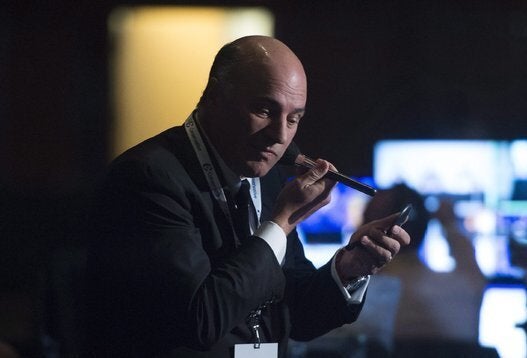 Conservative Convention 2016