CP
OTTAWA — Public Safety Minister Ralph Goodale says he wants to end the Canada Border Services Agency's practice of detaining child migrants.  Goodale told a Senate committee today his department is looking at alternatives to locking away children, but he suggests the issue is a complex one that requires study.  In a confidential inspection report made public in January, the Red Cross says Canada should jail child immigrants only as a "last resort" and must find alternatives to detention for such vulnerable newcomers.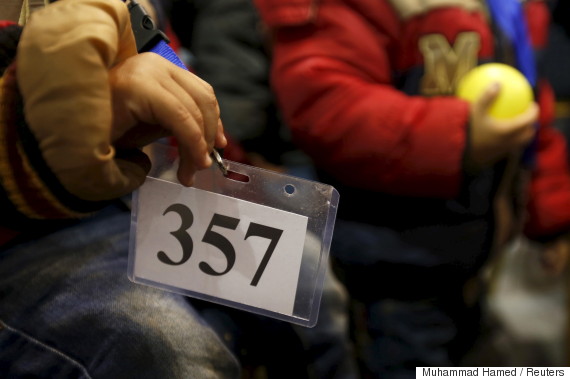 A Syrian refugee child displays his serial number as his family register their information at the Canadian processing centre for Syrian refugees, during a media tour held by the Canadian Embassy in Jordan, at Marka airport, Amman, Jordan on Dec. 8, 2015. (Photo: Muhammad Hamed/Reuters)
The border services agency holds people who are considered a flight risk or a danger to the public, and those whose identities cannot be confirmed. The Red Cross says the border agency detained 10,088 immigrants — almost one-fifth of them refugee claimants — in 2013-14 in a variety of facilities, including federal holding centres and provincial and municipal jails. Among these were at least 197 minors, held an average of about 10 days each. Follow @JimBronskill on Twitter
Also on HuffPost:
Countries With The Most Immigrants: 24/7 Wall St.