Reports of Zika virus are terrifying for expectant parents. The disease is usually banal for the average person, with mild symptoms that rarely escalate to anything more than a few days of feeling under the weather.
However, the virus has the potential to cause two major complications: Guillain-Barré syndrome, in which your immune system attacks your nerves; and serious birth defects in unborn children, including a brain defect called microcephaly.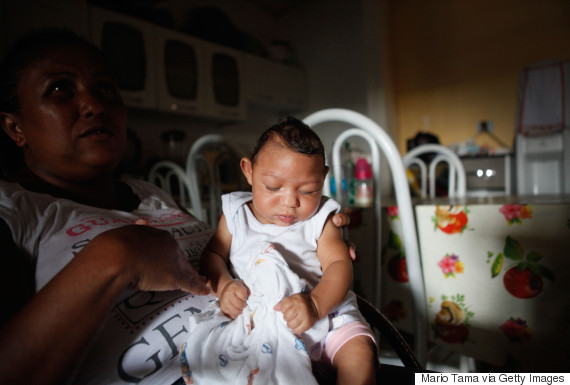 Babies with microcephaly have heads that are smaller than the typical size of other babies of the same sex and age, which can mean that the skull and brain stopped developing either during the pregnancy or after birth. Severe microcephaly is an extreme form of the condition.
How can you get Zika? The disease can be contracted in areas of active outbreaks via a specific type of infected mosquito or can be sexually transmitted.
Here is a list of countries and territories where cases of the Zika virus have been confirmed. If you're expecting or planning to become pregnant, these are the places you should be aware of.
North America
Canada, United States, Mexico, Martinique, Puerto Rico, Haiti, Barbados, U.S. Virgin Islands, Saint Barthélemy, El Salvador, Guatemala, Panama, Honduras, Belize, Nicaragua, Guadeloupe, Dominican Republic, Jamaica, St. Maarten, St. Vincent and the Grenadines, Cuba, Dominica, Saint Lucia
South America
Brazil, Colombia, Suriname, Paraguay, Venezuela, French Guiana, Guyana, Ecuador, Bolivia, Curaçao, Aruba, Peru, Argentina, Bonaire, Trinidad and Tobago
Europe
France, Spain
Africa
Cape Verde, Uganda, Tanzania
Asia
Maldives, Vietnam, South Korea, Bangladesh, Laos
Oceania
Tonga, Marshall Islands, Fiji, Papua New Guinea, Samoa, New Caledonia, Kosrae (Federated States of Micronesia)
Canadians should remain informed when making travel plans, but the Government of Canada reports that the risk of acquiring Zika, even when travelling to affected countries, remains low.
There are currently no Canadian CDC Level 3 travel warnings, meaning essential travel only, for Zika-infected areas. All of the Zika travel warnings are currently Level 2, meaning travellers should practice enhanced precautions.
If you are travelling to an affected country, take safety measures against mosquitoes, including full coverage, appropriate repellents and remaining inside in places with window and door screens, as well as air conditioning.
To learn more about the Zika virus, check out four things pregnant Canadians need to know.
ALSO ON HUFFPOST: