OTTAWA — Canada's ambassador to Washington was appointed as a cushy reward so he could lobby for his former clients, claimed outspoken Conservative MP Cheryl Gallant Monday in remarks the Liberal government said amounted to character assassination.
Gallant, the longtime MP for Renfrew—Nipissing Pembroke, told the Commons the appointment of David MacNaughton was simply outrageous. He is the former chairman of the Toronto government relations firm StrategyCorp and a former principal secretary to Ontario premier Dalton McGuinty.
"This is one at the same level as appointing a family member, like a nephew, to such a position. It is who one knows in the PMO for the government," she said.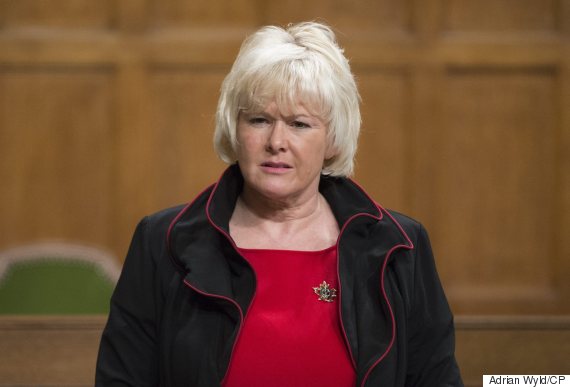 Conservative MP Cheryl Gallant rises in the House of Commons in April in Ottawa. (Photo: Adrian Wyld/Canadian Press)
"His appointment at taxpayer expense is his reward for having sat in the same office as the prime minister's principal secretary, the individual who controls everything the prime minister says and does," Gallant said, referring to Gerald Butts, Prime Minister Justin Trudeau's best friend and trusted advisor.
Butts worked for MacNaughton in McGuinty's office — later replacing him as the principal secretary to the Ontario premier. MacNaughton was also the one-time boss of Trudeau's chief of staff, Katie Telford, who worked at StrategyCorp prior to becoming the Liberals' campaign co-chair for the 2015 election.
Gallant went on to suggest that MacNaughton was the "prime minister's bully" and was given the job to line his own pockets. She referenced how he was named in a $1.5 million lawsuit by a disgruntled ex-Liberal candidate.
"Is this the way the Liberal Party is getting the taxpayer to pay MacNaughton's legal bill?" Gallant asked. "Give him a cushy job in Washington where he can lobby for his lobbying clients and add to his clientele list."
'Character assassination'
Liberal MP Kevin Lamoureux, the parliamentary secretary to the government House leader, suggested it was a good thing Gallant was standing inside the chamber — where parliamentary privilege protects her from slander lawsuits — rather than outside of it.
"Wow, what a job on character assassination."
MacNaughton's appointment was subject to the appropriate controls of the ethics commissioner, he said, and the ambassador had ensured all of his previous business arrangements were, and continue to be, in compliance.
Toronto International Film Festival board member Leslie Noble and David MacNaughton attend a cocktail party in 2007. (Photo: Getty Images)
Lamoureux noted that MacNaughton, who is well regarded in government and business circles, had a wide breadth of experience both in working with Liberals as well as Conservatives, and with governments abroad, including at federal and state levels in the United States.
"Ambassador MacNaughton brings with him an expertise that will provide the Canadian public, businesses and governments at every level a deep understanding of the various systems and leaders that will help Canada champion its interests in a renewed spirit of co-operation and promotion of every aspect of that relationship," Lamoureux said.
"His resumé speaks for itself. He has worked with various industries, sectors of our economy, key stakeholders, public and private alike, and countless governments from coast to coast to coast. He will do a fantastic job representing our business and stakeholder interests abroad."
"Anyone whose name is linked directly or indirectly to former premier McGuinty should be disqualified for life from holding any government position."
— Tory MP Cheryl Gallant
The Trudeau government is focused on improving the Canada-U.S. relationship and MacNaughton will play a key role in strengthening that partnership, Lamoureux suggested.
Ex-U.S. ambassador Derek Burney, a former chief of staff to Progressive Conservative prime minister Brian Mulroney, told the Ottawa Citizen earlier this year that MacNaughton had the most vital ingredient for any diplomat in Washington: access, through close connections to Trudeau's inner circle.
"His asset in Washington and in Ottawa will be the fact that he is known to have the prime minister's confidence and to have the ability to get to the prime minister without going through a lot of filters. It will strengthen his capacity to get the job done," Burney is quoted saying.
But Gallant would have none of it.
Unlike prime minister Stephen Harper, who had appointed an NDP premier to Washington — Manitoba's Gary Doer — Trudeau had made a "sordid," "unethical" political appointment, she said.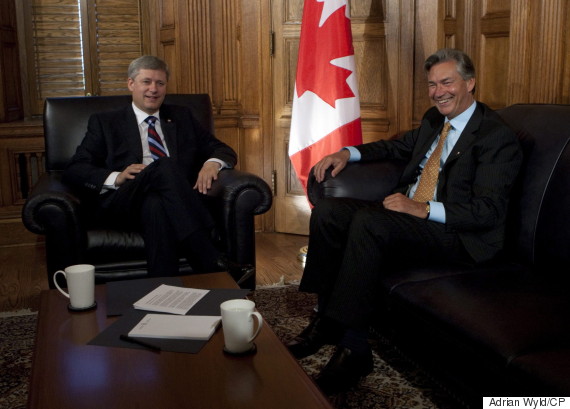 Former prime Minister Stephen Harper meets with then-ambassador to the United States Gary Doer on Parliament Hil in Ottawa, on Friday August 28, 2009. (Photo: Adrian Wyld/CP)
"Cronyism is at its finest in the Liberal tradition," she said.
Gallant was particularly incensed that MacNaughton, someone with ties to the McGuinty Liberals, would be given a reward.
"MacNaughton is cursed by the taxpayers of Ontario for his time spent as principal secretary to Dalton McGuinty," she said, blaming him for Ontario's high electricity rates and large debt.
"Anyone whose name is linked directly or indirectly to former premier McGuinty should be disqualified for life from holding any government position."
EARLIER: Tory MP Cheryl Gallant Really Likes Bashing Ontario Liberals
She then went on to read comments from readers on a Postmedia story about the appointment, such as: "Way to go junior you've shown us that you really are ready to pork-barrel as well as anyone."
Lamoureux said it was "amazing" that Gallant felt she could come into the chamber and besmirch the character of an individual who had done so much serving his province and the country.
"The manner in which the member has brought forward issues, which are so beyond what is good parliamentary decorum, is completely uncalled for," he said. "There is no foundation in truth or merit to her arguments. I highly recommend that the member do a little more homework and look at what this individual has done for our country."
Cameron Ahmad, Trudeau's press secretary, told The Huffington Post Canada via email that the prime minister was "proud to appoint Mr. MacNaughton as Ambassador to the United States last fall, and is confident that he will continue to strengthen the Canada-US relationship moving forward."
ALSO ON HUFFPOST: