KAMLOOPS, B.C. — Len Marchand, the former Liberal MP and senator who was the first status Indian elected to Parliament, has died at age 82. Marchand was recently admitted to a Kamloops, B.C., hospital with kidney problems and died on Friday. He is survived by wife Donna Parr, daughter Lori Marchand and son Len Marchand Jr. "My dad was a really great man and had a huge impact on the history of this country, but he was also a really fine individual," said Lori Marchand.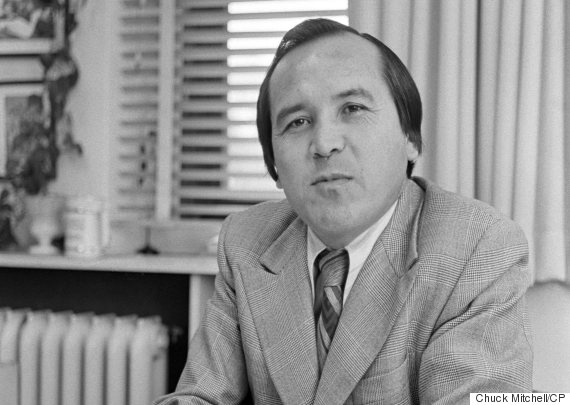 Leonard Marchand is pictured in a Sept. 27, 1974 file photo. (Photo: Chuck Mitchell/CP)
He was born in Vernon, B.C., in 1933 and went on to mark a number of milestones for indigenous people in Canada. He was the first status Indian to graduate from a public high school in Vernon, and was one of the first aboriginal students to enrol at the University of British Columbia. Marchand also voted in an election in 1958, two years before First Nations citizens were granted the right to vote. His work advocating for indigenous rights took him to Ottawa, where he got jobs working for cabinet ministers Jack Nicholson and Arthur Laing. In 1968, he ran for the Liberals in Kamloops-Cariboo, which had long been held by Progressive Conservative MP E. Davie Fulton.
Canada has lost a trailblazer. My condolences to the family of Len Marchand, the first federal cabinet minister of First Nations descent.

— Justin Trudeau (@JustinTrudeau) June 3, 2016
Marchand credited his win to his strong connections with the agricultural community in the area, and the visits Pierre Trudeau made on his behalf during the height of Trudeaumania. Marchand went on to hold cabinet positions including minister of state for small business, where he was handed the task of bringing the metric system to Canada, and later served as environment minister until the Liberal government's defeat in 1979. 
He became the second Aboriginal senator in Canada
He was appointed to the senate in 1984, becoming the second Aboriginal senator in Canada, and retired in 1998. He was honoured with the Order of Canada the following year. Simpcw First Nation Chief Nathan Matthew says Marchand was a role model for all First Nations. "He really worked hard on how to make a better place for First Nations people, as well as doing all the other things he did as an MP," said Matthew. "He had an incredible memory, in terms of remembering people and places and conversations ... and had a great sense of humour."
ALSO ON HUFFPOST:
Meet Canada's Indigenous MPs