Police in London, Ont. are getting flak for having the gall to include a word — in neither English nor French — on some of their squad cars.
The London Police Service has decals on its vehicles in languages including Polish, Persian and Arabic. CBC News reports the outrage began Monday, after photos showing a police car brandishing one of the stickers were posted to Facebook — where they have been shared more than 18,000 times.
"SO IT STARTS – THE LITTLE TOE IS IN THE DOOR ALREADY," the Facebook post said. "WELL NOW - How do you like this ? THIS IS OUR ONTARIO ! ! "
The decals have been on the cars since 2009, and were part of a program to reflect the city's diversity.
Const. Sandasha Bough told The Huffington Post Canada this is the first time the department has received any negative feedback for the decals. Since the Facebook post from Laval, Que. started picking up traction, the force has received emails, tweets and calls about the stickers.
The police service's Facebook page elicited many comments as well, such as "This is unacceptable in Canada. The official languages are English and French."
Although Bough said the anger was directed mostly toward the use of Arabic decals, the photos that sparked online outrage show not only an outdated version of the decals, but one that isn't even the official Arabic sticker.
Bough said the photos showed the Persian decal, although it still looks different from the actual Persian word listed on the department's website (پلیس). She said the website would be updated to reflect the most accurate stickers used.
The image in the tweet below shows the five different decals the force uses, in addition to English and French:
Bough said in an email that police have no plans to remove the decals, and are working on adding a Spanish one in the near future. She added that many recent emails to the force have been supportive.
"For the most part, the negative comments appear to be coming from outside of the city," she said.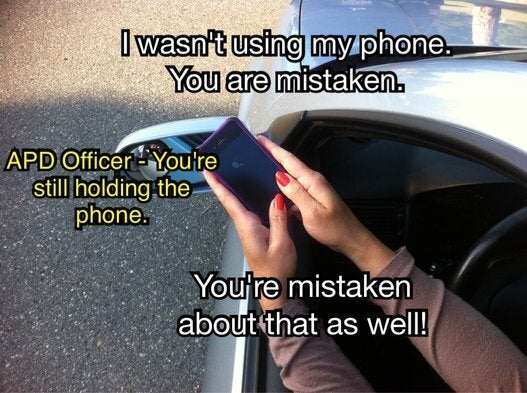 Best Driving Excuses — Abbotsford Police Department