TORONTO — Olivia Chessman carefully laid out her attack plan for buying Tragically Hip concert tickets when the public sale began on Friday.
The Kawartha Lakes, Ont., resident, like many other Canadians, planned to sit at her office computer and frantically click the reload button on her web browser in the hopes of scoring tickets to one of the few Hip shows this summer.
"I'm kind of expecting not to get any,'' she said before the sale. "It's the last run of shows and everyone and their mother seems to want tickets.''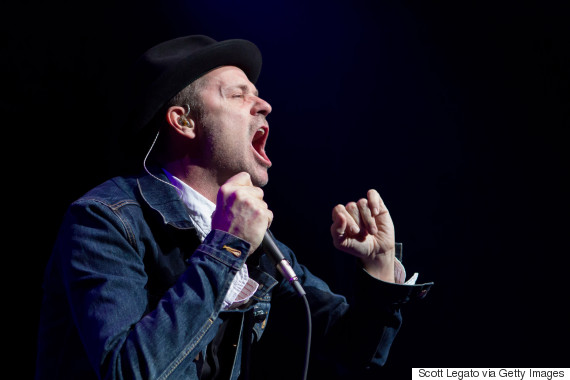 Gord Downie of The Tragically Hip performs at The Fillmore on Nov. 28, 2012 in Detroit, Mich. (Photo: Scott Legato/Getty Images)
Chessman was among a stampede of eager Canadians hoping to get seats to what's widely expected to be the Hip's final tour, given lead singer Gord Downie's battle with incurable brain cancer.
She was not one of the lucky ones as tickets quickly vanished on Friday morning.
Beyond simple supply and demand, Chessman and other disappointed fans were up against several factors that kept them from getting tickets.
As a recent report by the office of New York state attorney general Eric Schneiderman declared: "ticketing, to put it bluntly, is a fixed game.''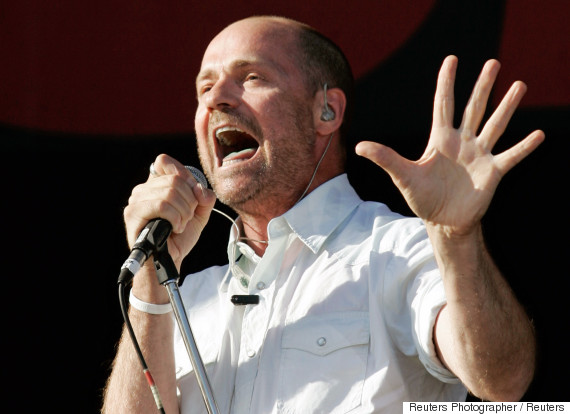 Gord Downie of the Tragically Hip performs at the Live 8 concert in Barrie, Ontario July 2, 2005. (Photo: Reuters)
Over the past decade, the rise of computer software programs operated by scalpers have pitted man against machine in the fight for a limited number of concert tickets.
The software inundates the Ticketmaster website with requests that lock in seats by the second, while the average person struggles to keep pace with their computer mouse.
Not surprisingly, the machines almost always win.
The problem has frustrated music fans and captured the attention of government officials in the United States and the United Kingdom, who have launched investigations into the ticket resale market.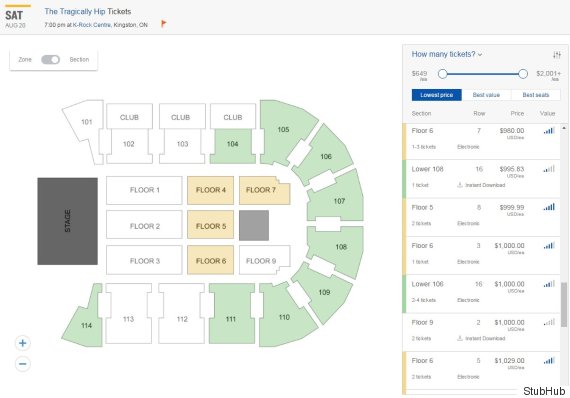 Tickets to see The Tragically Hip in Kingston on Aug. 20 are going for as much as US$1,000 each. (Photo: StubHub)
This week, Ontario's attorney general Madeleine Meilleur joined the chorus of criticism saying she wants to find out why so many Hip fans have been shut out while secondary sellers like StubHub have been flooded with tickets marked up by hundreds of dollars.
Dean Budnick, author of "Ticket Masters: The Rise of the Concert Industry and How the Public Got Scalped,'' has heard all the complaints before. He says disgruntled Hip fans have reason to be peeved, but he suspects most don't understand the complexities of today's concert ticket market.
Along with competing against scalpers with modern software, limited inventory is a problem.
Before they go on sale to the public, batches of tickets are often divided between fan club presales, credit card company customers and other buyers. Plus, artists and management secure some tickets for themselves too.
"That in and of itself takes its toll on available inventory,'' Budnick says.
Once the remaining tickets get filtered down to the public sale, it sometimes means there are only scraps to fight over, and many of them are scooped up by resellers who can capitalize on the limited supply.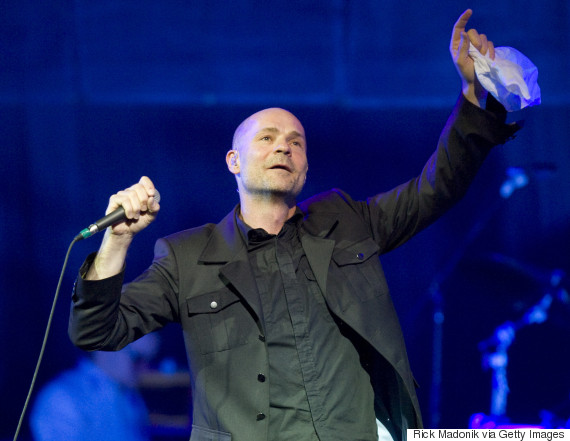 Gord Downie of The Tragically Hip at Toronto's Massey Hall. (Photo: Rick Madonik/Toronto Star via Getty Images)
Schneiderman's report, published in January, found that on average, about 46 per cent of event tickets are reserved for the public, while most of them are set aside for presales (38 per cent) or music industry insiders (16 per cent).
His office found that each year, at least tens of thousands of the publicly available tickets are being acquired by computer software run by resellers.
The report picked a U2 concert at Madison Square Garden on Dec. 8, 2014 to illustrate the challenge facing average concertgoers. Within a minute of the public sale, a single broker had purchased 1,012 tickets for the show, even though a supposed four-ticket limit was in effect for each customer.
The same broker acquired more than 15,000 seats to U2 shows across North America by the end of the day, the attorney general said.
Many of those tickets are resold at a significant mark up — with prices about 49 per cent higher on average and sometimes as much as 1,000 per cent above their original value, the report said.
"They've been my family's favourite band since I was a kid."'
The attorney general also raised concerns about the sales of "speculative tickets,'' or tickets not yet acquired by the broker which it expects to be able to purchase. Those drive overall prices higher on the secondary market.
The findings are enough to discourage some fans from pursuing tickets to big concerts all together, or turn to resellers and pay the inflated price.
That's what Chessman did last month when she lost the "impossible'' battle for seats at Beyonce's Toronto show. She forked over $100 to StubHub for her ticket — more than double its face value — for the last row in the top section.
Chessman says it was worth the money, and she was considering paying up to $300 for Hip tickets on the secondary ticket market.
"They've been my family's favourite band since I was a kid,'' she says. ``There's a lot of sentimental value there.''
And resellers are banking on it.
Also on HuffPost
Gord Downie's Toronto House Sold Nov. 2015)