Attawapiskat Chief Bruce Shisheesh hopes a meeting scheduled with Prime Minister Justin Trudeau later this month will lead to new health and infrastructure commitments for his community.
Shisheesh told the CBC a visit by Health Minister Jane Philpott last Thursday did not result in any announcements.
"I was kind of disappointed," Shisheesh said.
"The meeting was not successful because we're still in a crisis mode and we still need immediate help in our community."
Philpott's visit came two months after the reserve declared a state of emergency due to a suicide crisis. 
Shisheesh said he is looking forward to meeting Trudeau in Ottawa on June 13 to work toward long-term solutions to Attawapiskat's problems.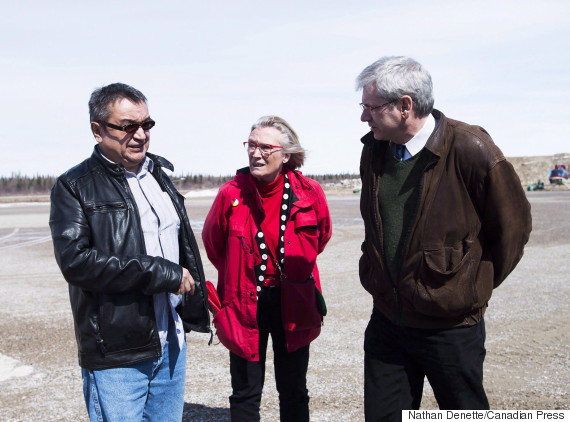 Chief Bruce Shisheesh, Minister of Indigenous Affairs Carolyn Bennett, centre, and NDP MP Charlie Angus, meet in the northern Ontario First Nations reserve of Attawapiskat, Ont., on April 16, 2016. (Photo: Nathan Denette/Canadian Press)
The community still needs a permanent case manager, trauma and grief counsellors, Shisheesh said.
"The mental health program is in trouble I would say because it's under-resourced and under-staffed in all areas," Mushkegowuk Council Grand Chief Jonathan Solomon said.
All people in Attawapiskat want is to be treated normally, said Shisheesh. But they need basic things. 
"We need water, sewer, electrical and other things Ontario calls normal," he said. 
Attawapiskat is also looking for more housing and an all season road to connect the isolated community to the rest of the country, Shisheesh said.
"We need water, sewer, electrical and other things Ontario calls normal."
Need for all season roads to connect isolated First Nations to rest of Canada 
"That's the hope of our people," Solomon said.
"The cost of bringing the stuff to repair your house is so expensive and there's only a short opportunity in the wintertime to do that. It's just not viable in regards to continuing this type of isolation."
Communities on the James Bay Coast are accessible by car for a short period of time during the winter thanks to a 300-kilometre ice road.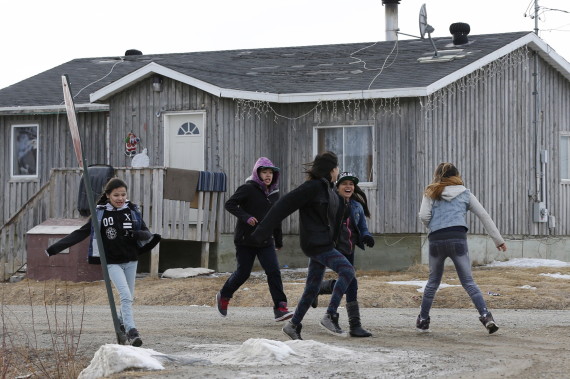 Girls play on a street in the Attawapiskat First Nation in northern Ontario on April 14, 2016. (Photo: Chris Wattie/Canadian Press)
But climate change is affecting that window of opportunity, said Nishnawbe Aski Nation Grand Chief Alvin Fiddler.
"The winters are becoming more and more unreliable," said Fiddler. 
"We need to start looking for longer term solutions and an all season road does work as one of them."
Nishnawbe Aski Nation is starting to have a conversation with the provincial and federal governments about the need to construct all season roads across northern Ontario, Fiddler said. 
"We need to start looking for longer term solutions."
Fiddler and Solomon said they will they will discuss the issue in further detail when they accompany Shisheesh to his meeting with Trudeau.
Chief invites Trudeau to Attawapiskat 
Shisheesh is also trying to bring Trudeau to Attawapiskat so the prime minister can see the living conditions first hand.
"I invite the prime minister up to Attawapiskat," he said. 
"This is our home and we will welcome him to come and visit our community."
Also on HuffPost