TORONTO - Ben Mulroney and Anne-Marie Mediwake have been named co-hosts of CTV's new morning show.
The "eTalk" host and former CBC News anchor will take the helm of "Your Morning," which will debut at the end of the summer.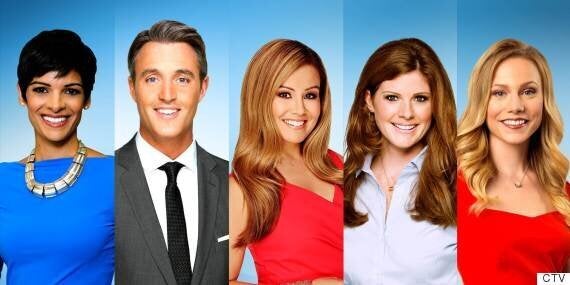 From left to right: new hosts Anne-Marie Mediwake and Ben Mulroney, along with co-anchors Melissa Grelo, Lindsey Deluce and Kelsey McEwen.
The series will be broadcast from Bell Media's downtown broadcast centre in Toronto, and will air weekday mornings on CTV in Ontario, Quebec and Eastern Canada and nationally on CTV News Channel.
Joining hosts Mediwake and Mulroney are Melissa Grelo of CTV's daytime talk show "The Social," Lindsey Deluce of Toronto's "CP24 Breakfast," and Kelsey McEwen of "CTV Morning Live Calgary."
Mulroney and Grelo will continue on with their respective roles on "eTalk" and "The Social."
Deluce and McEwen will continue their current roles through the end of the month.