Wood Buffalo council is facing the difficult decision of whether or not some Fort McMurray, Alta. neighbourhoods can, or should, be rebuilt.
Ten per cent of the northern Alberta city was destroyed after out-of-control wildfires swept through last month. And it's beginning to look like if some of the worst-hit communities will ever rebuild, they'll have to do so elsewhere.
Residents of the southeast Fort McMurray community of Waterways will be allowed to briefly visit their destroyed homes beginning Wednesday, but there has been no date set for when reconstruction will be allowed.
Ninety per cent of homes in the neighbourhood were lost. The city is mulling whether it should be rebuilt — not because of wildfire risk, but of flooding.
"It's not a question of if it will flood, but when."
Waterways sits on a floodway along the Clearwater River. When the provincial government enacted a bill that prevented building in floodways, the Fort McMurray neighbourhood (and most of the city) was exempt as the area was considered a pre-existing development.
The community has flooded a number of times over the years, most recently in 2013.
Regional Municipality of Wood Buffalo Mayor Melissa Blake says the city will consult with residents to decide whether or not Waterways should be rebuilt.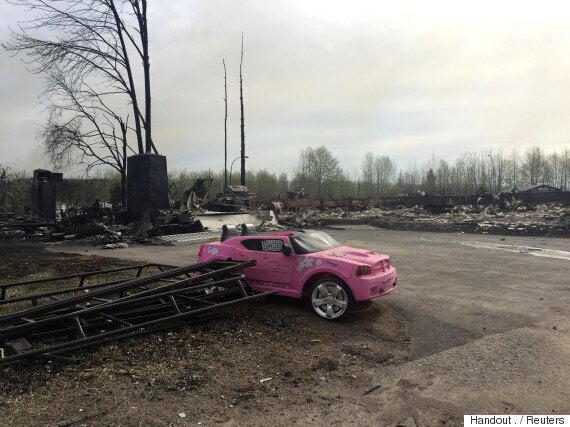 A child's toy car remains among the destroyed buildings in Waterways, Fort McMurray. (Photo: Brad Readman/Alberta Fire Fighters Association/Handout via Reuters)
The discussion has divided some residents from the area, including Wildrose Party Leader Brian Jean.
Jean has lived in Waterways for years and has already applied with the city to rebuild his home, this time with more fireproofing.
Some residents say even though it will be hard, rebuilding elsewhere may be the right decision.
"For Waterways, it makes sense not to rebuild on a flood plain... It's not a question of if it will flood, it's a matter of when," wrote one former Fort McMurray resident on a Facebook thread about the proposal.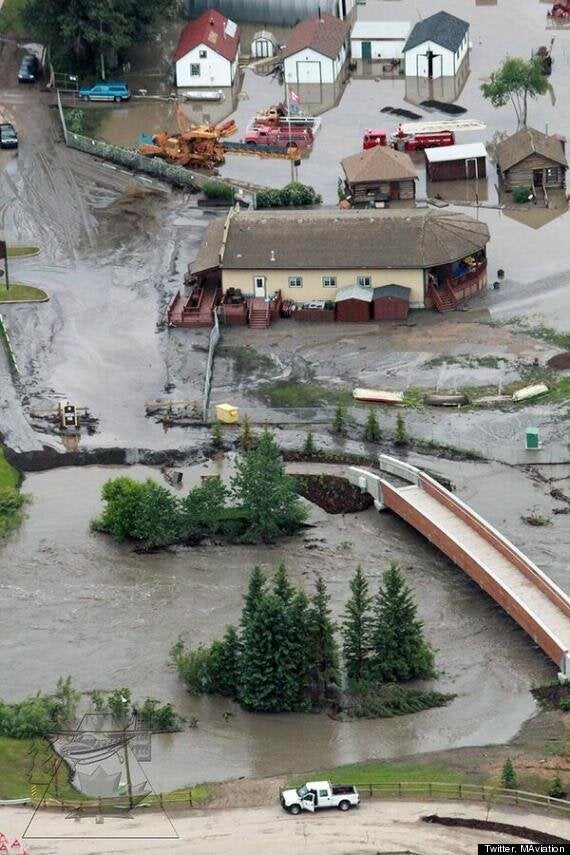 The 2013 Fort McMurray flood has some questioning if all of the city's neighbourhoods should be rebuilt after the wildfires. (Photo: MAviation/Twitter)
Other hard-hit neighbourhoods in the region are currently in limbo, as environmental testing has found high levels of toxins, ash and debris.
"In the heavily damaged neighbourhoods of Waterways, Abasand and Beacon Hill, testing has confirmed contaminants in the ash are at levels that make these neighbourhoods unsafe for occupation until debris can be cleared," Dr. Karen Grimsrud, Alberta's chief officer of medical health, in a statement on Friday.
The city has yet to decide on the fate of its communities.
"We need to understand whether it's even remotely possible that people could live a healthy, non-toxic life (in these communities)," said Blake in an interview with YMMmatters.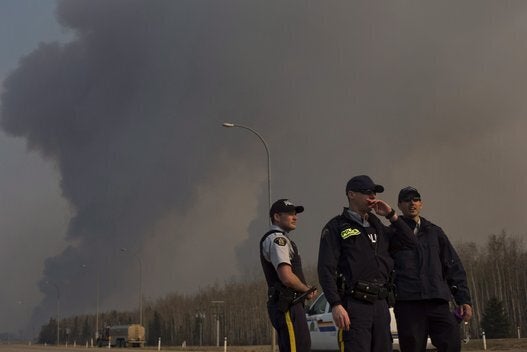 Fort McMurray Wildfire (May 2016)