JK Rowling has had it up to here with the "bunch of racists" who are attacking the decision to cast a black actress to play Hermione Granger in the new play, "Harry Potter and the Cursed Child."
Her response, naturally, will make you fist pump.
"I had a bunch of racists telling me that because Hermione 'turned white' — that is, lost colour from her face after a shock — that she must be a white woman, which I have a great deal of difficulty with," Rowling told The Observer. "But I decided not to get too agitated about it and simply state quite firmly that Hermione can be a black woman with my absolute blessing and enthusiasm."
When news broke in December that a black actress would be taking on the role of Hermione, the decision was immediately discussed and dissected on Twitter and fan sites. Rowling immediately took to Twitter to share her thoughts on the casting.
"Canon: brown eyes, frizzy hair and very clever. White skin was never specified. Rowling loves black Hermione," she tweeted.
Rowling still stands by her remarks, telling the Observer she thinks Dumezweni, a 45-year-old British actress who has won an Olivier Award, is a fantastic Hermione.
"With my experience of social media, I thought that idiots were going to idiot," she told the Observer. "But what can you say? That's the way the world is. Noma was chosen because she was the best actress for the job."
Last week, the "Cursed Child" Twitter account revealed new cast photos, including Dumezweni as a grown-up Hermione, actor Paul Thorney as Ron and actress Cherrelle Skeete as their daughter, Rose.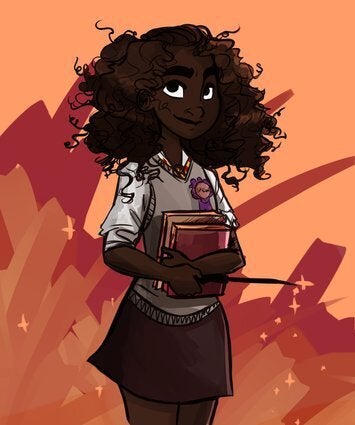 20 Racebending Pieces of Harry Potter Fan Art