Animals have appeared on the witness stand before, but it would still be odd to see one man's parrot testify.
Martin Duram's parents believe that his African grey parrot Bud was in the room when the Michigan man was murdered last year, largely because of words the bird repeated in a video they took weeks later, they told WOOD-TV.
The 46-year-old, who lived in the area of Sand Lake, Mich., was shot five times and killed in his home last May, according to MLive. His wife Glenna Duram was also shot in the head, but survived.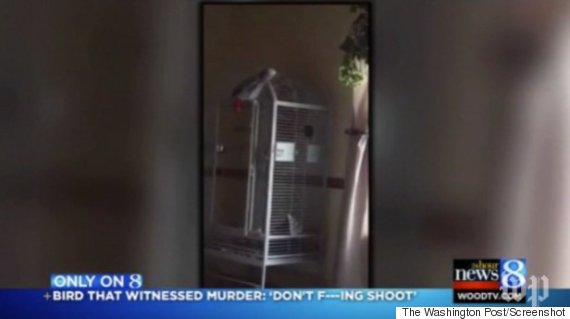 In video that you can see above, Bud can be heard saying what sounds like "Don't f---ing shoot" and then speaking rapidly in two different tones of voice.
Charles and Lillian Duram told WOOD-TV they think Bud was imitating their son and his wife.
"That bird picks up everything and anything, and it's got the filthiest mouth around," said Lillian.
Martin's ex-wife now owns Bud and told The Washington Post that he frequently mimics the sound of a man and woman bickering.
"I'm hearing two people in an intense argument," said Christina Keller.
"Two people that I know, voices that I recognize." She said she thinks the "don't shoot" comment was her ex-husband's last.
Wife has been identified as a suspect
Police concluded after the May 2015 shootings that there were no apparent signs of a break-in, according to MLive.
Reports obtained by the outlet also say Glenna often made comments about killing her husband or waiting for him to die. Martin had became disabled many years ago due to a traumatic brain injury.
His daughter Jessica told the outlet back in January she'd made up her mind that his wife was the culprit, but prosecutor Robert Springstead said he wasn't jumping to conclusions.
"I work on evidence and things I can prove, not gut feelings and hunches."
WOOD-TV reports that Glenna has been identified as a suspect, and Springstead told the station he will likely decide in the next couple of weeks whether or not to file charges. She denied a role in an interview with police.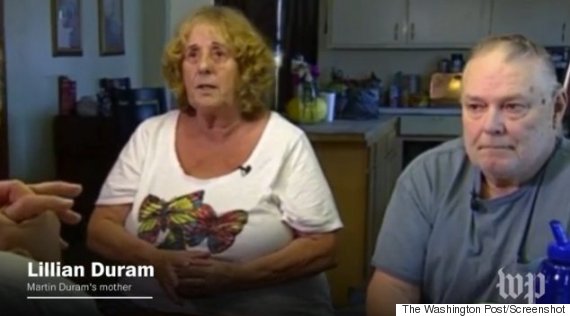 Martin Duram's parents open up about his parrot's role in their son's murder investigation.
It's hard to know whether Bud could be a witness, but as two law experts told Atlas Obscura, it's pretty unlikely.
Not only could a parrot not be called to testify because it's not a person, Animal Legal Defense Fund's Matthew Liebman told the website, but in many U.S. states you also have to prove and then take an oath that the bird can tell right from wrong.
You can watch footage of Bud in the video above.
Also on HuffPost
9 Wrongful Conviction Cases More Shocking Than 'Making A Murderer'