Donald Trump can be hazardous to your health.
That's the reason why BuzzFeed has backed out of a deal to run ads for the Republican National Committee (RNC), after the presumptive nominee launched attacks against people such as Muslims and Mexicans, according to a letter obtained by Politico.
BuzzFeed CEO Jonah Peretti said in the letter to staff that the company has decided not to run Trump for President ads despite a reported US$1.3 million agreement with the party.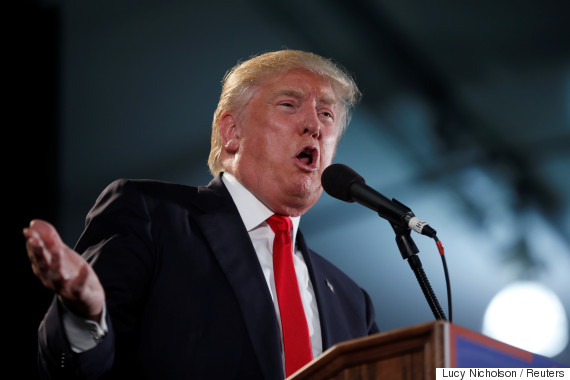 U.S. Republican presidential candidate Donald Trump speaks at a campaign rally in San Jose, California, U.S. June 2, 2016. (Photo: Lucy Nicholson/Reuters)
That's because the nominee has trumpeted policies such as a "complete shutdown" on Muslims entering the United States; because Trump has made degrading comments about women; and because of limits the candidate has placed on a free press.
"We don't run cigarette ads because they are hazardous to our health, and we won't accept Trump ads for the exact same reason," Peretti wrote.
Recode reporter Noah Kulwin asked BuzzFeed editor-in-chief Ben Smith whether the site would have pulled Republican ads had Ted Cruz won the nomination.
Cruz has been criticized for running a transphobic campaign in which he supported bills that banned trans people from using washrooms that matched their gender identities.
Smith said that the decision to pull the Republican ads was "Jonah's call, and the prerogative of a publisher."
Sean Spicer, a spokesman for the RNC, told CNN that it never expected to use BuzzFeed to promote its ads, though "space was reserved on a number of platforms."
He added that it's "ironic that they have not ruled out taking money from a candidate currently under investigation by the FBI," referring to Hillary Clinton.
Trump has had a testy relationship with BuzzFeed going back to at least 2014, when he issued a number of tweets calling the site "failing and irrelevant."
His tweets came after BuzzFeed reporter McKay Coppins had written a story titled "36 Hours on the Fake Campaign Trail with Donald Trump."
Thank you to Jeffrey Lord @AmSpec for his incredible & insightful article this weekend on failing & irrelevant @BuzzFeed

— Donald J. Trump (@realDonaldTrump) February 19, 2014
Here is Jonah Peretti's full memo to BuzzFeed staff, as obtained by Politico:
"Hello BuzzFeeders,

I wanted to share with you a business decision we have made regarding the Trump for President campaign and why we made it.

In April, the Republican National Committee signed an agreement with BuzzFeed to spend a significant amount on political advertisements slated to run during the Fall election cycle. As you know, we accept advertisements from both republican and democratic candidates and we were pleased to accept this advertising order from the RNC.

Since signing this advertising deal, Donald Trump, as you know, has become the presumptive nominee of his party. The tone and substance of his campaign are unique in the history of modern US politics. Trump advocates banning Muslims from traveling to the United States, he's threatened to limit the free press, and made offensive statements toward women, immigrants, descendants of immigrants, and foreign nationals.

Earlier today Buzzfeed informed the RNC that we would not accept Trump for President ads and that we would be terminating our agreement with them. The Trump campaign is directly opposed to the freedoms of our employees in the United States and around the world and in some cases, such as his proposed ban on international travel for Muslims, would make it impossible for our employees to do their jobs.

We don't need to and do not expect to agree with the positions or values of all our advertisers. And as you know, there is a wall between our business and editorial operations. This decision to cancel this ad buy will have no influence on our continuing coverage of the campaign.

We certainly don't like to turn away revenue that funds all the important work we do across the company. However, in some cases we must make business exceptions: we don't run cigarette ads because they are hazardous to our health, and we won't accept Trump ads for the exact same reason.

Thanks,

Jonah"
Also on HuffPost
A Children's Book About Donald Trump's Hair That's Perfect For Bedtime