City of Edmonton
The City of Edmonton is giving residents an environmentally-friendly way to charge their phone on the go with the construction of solar-powered public benches.
Two benches, made by MIT Media Lab start-up Soofa, were unveiled as part of Environment Week on Tuesday.
"The City of Edmonton is the first Canadian city to have Soofa benches installed," said Sandra Richter, co-founder and CEO of Soofa, in a release.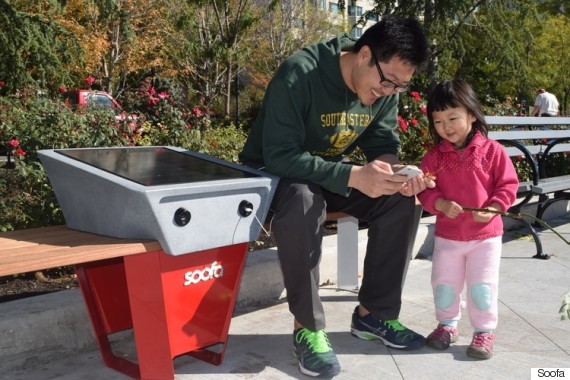 A father charges his phone at a Soofa bench. Two of the benches are being installed in Edmonton. (Photo: Soofa)
The benches not only charge mobile devices, but are also filled with environmental monitoring equipment.
The sustainably-built outdoor furniture uses sunlight to run and stores energy so it can even be used at night.
Coun. Ben Henderson and Edmonton Oilers player Andrew Ference unveiled the benches, which will be located at Churchill Square and the Muttart Conservatory.
Check out @Ferknuckle and @ben_hen charging their phones on the new @mysoofa benches in #yeg! #enviroweekyeg pic.twitter.com/19CgVKh6s0

— City of Edmonton (@CityofEdmonton) June 7, 2016
The benches are used in 12 U.S. states and five countries around the world.
"These benches provide a visible and tangible solar power experience for citizens," said Mark Brostrom, director of city environmental strategies, in a release.
Also on HuffPost: