A Liberal minister's self-deprecating joke in question period went over like a lead balloon with a Conservative critic asking about language barriers facing Syrian refugees in Canada.
And in an unusual turn of events, Tory MP Michelle Rempel even scolded the House Speaker for laughing.
Rempel rose in the House of Commons Tuesday to share concerns raised at a parliamentary committee that Syrian refugees and other immigrants are not receiving proper language training. A faculty member from the Vancouver Community College told MPs that classes for more than 220 refugees and immigrants were cancelled because of a federal funding cut, Postmedia reported.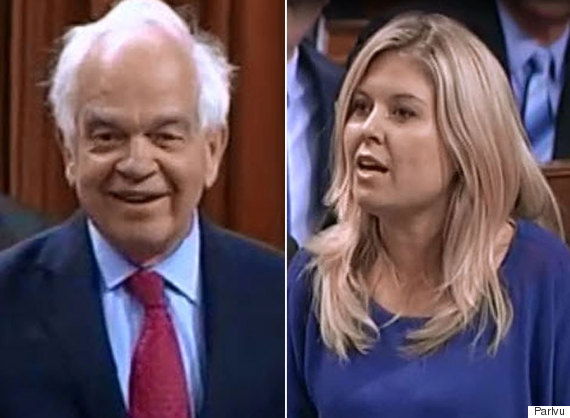 Immigration Minister John McCallum and Conservative MP Michelle Rempel are shown in question period Tuesday.
Though McCallum earlier denied any cut, Rempel demanded to know why the training was being cancelled for those in need.
"Yesterday, when the minister stood here and glibly claimed that he had a plan to address language training, was he looking at these cuts or was he just planning his next photo-op?" she asked.
McCallum was ready with a witty retort.
"Mr. Speaker, if the government wanted to send somebody somewhere for a photo-op, I suspect there are people in this aisle they'd probably send before they sent me," he said with a big smile.
Grit MPs, who have recently pledged not to clap during question period, broke out in laughter. Tories were unimpressed — rookie MP Cathay Wagantall literally shushed the government benches.
"This is not a laughing matter."
— MP Michelle Rempel
"While the people across the aisle here, Mr. Speaker, laugh at something like this, we have refugees in front of committee who are saying they are isolated — and you're laughing now, too," Rempel said to the Speaker. "This is not a laughing matter."
The Tory MP said it is "shameful" that the government is not providing the training when boards of education and other agencies are ready to help.
"They've spent over a $1 billion and they have not got the job done," she concluded of the Trudeau government's refugee resettlement plan.
Speaker Geoff Regan rose to point out that, as Rempel knows, many members "on all sides" were laughing at McCallum's "self-deprecating" humour.
ALSO: MPs Examine Possible Problems With Liberals' Refugee Plan
McCallum then suggested MPs were laughing because, well, they thought he was funny. There's nothing "amusing" about resources for refugees, he said.
The immigration minister said Liberals committed $600 million for refugee resettlement in the next year, including an additional $37 million for those coming from Syria.
"Language training is important and we have committed the funding for that language training to occur," McCallum said.
Rempel later took to Twitter to express concern about Regan's conduct.
I'll admit, I'm concerned that Speaker felt it necessary to interpret the laughter from Lib benches when asked about refugee support.

— Michelle Rempel, MP (@MichelleRempel) June 7, 2016
Her Conservative colleague Tony Clement and NDP MP Niki Ashton also said their piece.
I don't like the Speaker of the House taking sides, supporting a Liberal glibly joking rather than answering a serious q by @MichelleRempel

— Tony Clement (@TonyclementCPC) June 7, 2016
Key Q by @MichelleRempel on Lib cuts to language training 4 refugees only to followed by the Minister and Speaker having a laugh.#notajoke

— Niki Ashton (@nikiashton) June 7, 2016
Also on HuffPost
Trudeau Greets Syrian Refugees