MPs are getting another boost to their office budgets. 
A memo from the office of Speaker of the House of Commons Geoff Regan, which has been obtained by CBC News, says MPs will get a 20 per cent increase to the special supplements in their office budgets retroactive to April 1, 2016.
This comes after the 20 per cent increase to the general office budget announced in February that raised an MP's basic office budget to $349,100 from $288,450. That increase also included raises to an MP's travel budget and a boost to the offices of the Speaker, the Opposition leader and the NDP.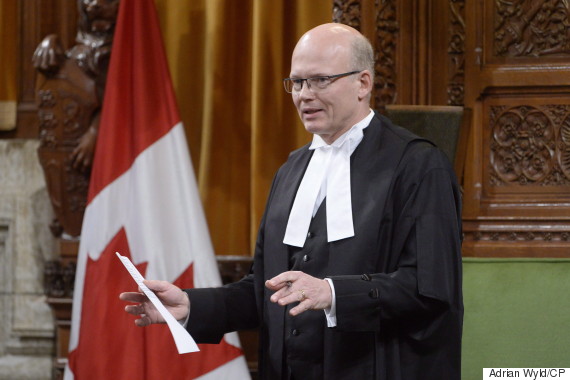 Speaker of the House Geoff Regan rises during Question Period in the House of Commons on Parliament Hill in Ottawa, on Monday, Feb.1, 2016. (Photo: Adrian Wyld/CP)
This most recent funding increase for all eligible MPs affects their elector supplement, geographic supplement and Schedule 3 supplement depending whether they qualify for one, two or all three supplements to their basic office budget. 
Each of the supplements is designed to level the playing field between different ridings depending on the population, size and location of the riding.
MPs with a large population were entitled to an elector supplement of $8,700 if they had at least 70,000 to 80,000 people in their riding, which rose incrementally to $52,140 if they had 150,001 or more constituents. Those amounts will now be  $10,440 and $62,568 respectively. 
The same increase is being applied to the geographic supplement, which is given to MPs that represent large, sprawling ridings that may require them to have more than one constituency office or present other challenges. 
MPs that qualify for this supplement would have received an additional $4,810 if their riding was between 500 and 3,000 square kilometres, rising to $52,900 for ridings 500,001 square kilometres in size or greater. Those amounts will now be $5,772 and $63,480.
MPs from remote communities whose ridings are listed in Schedule 3 of the Elections Act qualified for an additional $16,830 or $20,200 for MPs representing the Northwest Territories or Nunavut. Those amounts rise to $20,196 and $24,240.
Catching up 
The decision to increase the budget supplements was made in a May 12 meeting of the Board of Internal Economy, the governing body for the House of Commons that controls the spending for Parliament.
The board consists of Regan, who acts as chair, two members of the Privy Council, the leader of the Opposition and additional MPs in numbers that reflect the overall composition of the House of Commons.
The office budgets can be spent at the discretion of the MPs, or officers of Parliament, providing they follow the rules that govern what is a permitted expense.
The memo explains that the last time the supplement amount had been raised was in 2009-10.
ALSO ON HUFFPOST:
The House Speaker's Perks & Powers