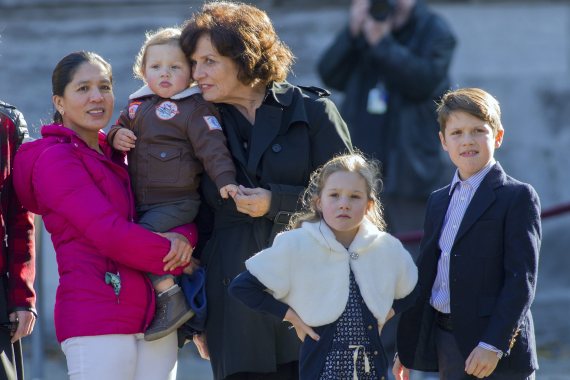 Marylou Trayvilla, far left, will no longer be working for the Trudeaus after July 1. (Photo: Sean Kilpatrick/The Canadian Press)
OTTAWA — Prime Minister Justin Trudeau has ended the employment of one of the women who help take care of his children, and will be picking up the tab for a new hire.
Marilou Trayvilla — officially described as a "special assistant" at the prime minister's residence — will leave the position on July 1, according to a government notice.
No reason is given for her termination.
Olivier Duchesneau, Trudeau's deputy director of communications, wrote in an email that one of two caregivers would be leaving.
"That caregiver will be replaced with a person hired directly by the Prime Minister and Ms. Grégoire Trudeau," he wrote to The Huffington Post Canada on Tuesday. "The status of the other caregiver remains unchanged."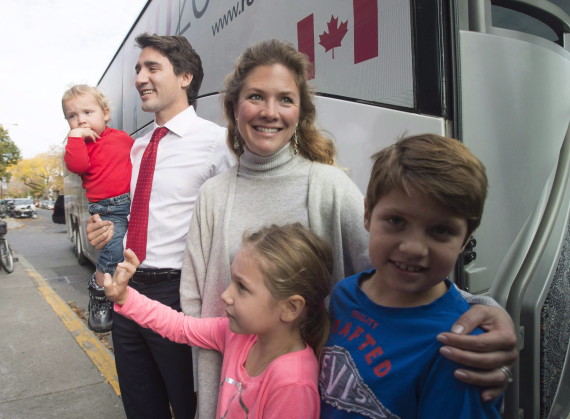 Justin Trudeau and his wife, Sophie Gregoire Trudeau, are seen with their children. (Photo: Adrian Wyld/The Canadian Press)
Duchesneau confirmed the Trudeaus would be paying for the new nanny themselves but he did not say why the change is being made.
Trayvilla's husband told The Toronto Star she was moving to a new full-time job because she had been working only part-time in the Trudeau household.
Trayvilla's appointment as a nanny at taxpayers' expense was confirmed through a cabinet order last November. Her salary, along with another Trudeau caregiver, Marian Puego, was listed as $15 to $20 per hour for work during the day and $11 to $13 hourly for a night shift.
According to The Ottawa Citizen last December, Trayvilla had been working for the family since Trudeau won the Liberal leadership race.
The Trudeaus have three children: Xavier, 8. Ella-Grace, 7 and Hadrien, 2.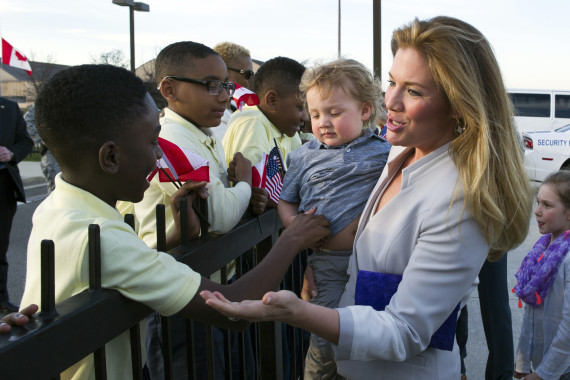 Sophie Grégoire Trudeau holds her youngest son Hadrien while she greets students in March in Washington, DC. (Photo: Cliff Owen/The Associated Press)
After news emerged that the nannies were on the public payroll, Trudeau's office pledged it would not expand the prime minister's household budget, but would adjust staffing to fit the family's needs.
"Given the nature of the prime minister's responsibilities and his young family, the Trudeaus employ two household employees who, in addition to performing other duties around the house, act as secondary caregivers to the three children," Trudeau's spokeswoman, Kate Purchase, told CBC News in December.
Opposition parties were quick to criticize the move. The NDP suggested the nannies were not being paid enough. The Conservatives said Trudeau should pay for the nannies himself, and pointed out that during the election campaign, the Liberal leader had repeatedly said that wealthy families like his and Harper's did not need the Conservatives' universal child care benefit.
Help for Sophie Grégoire Trudeau
The Prime Minister's Office confirmed Tuesday it is still considering providing Sophie Grégoire Trudeau with new staff after she revealed to a newspaper last month that she needed more help to handle public appearance requests.
"I'd like to be everywhere, but I can't," she told Le Soleil. "I have three children at home and a husband who is prime minister. I need help. I need a team to help me serve people."
Duchesneau told HuffPost that Grégoire Trudeau receives an "extraordinarily high volume" of correspondence and invitations.
"We are continuing to look at new ways to make sure she is supported at the official events she attends, as well as making sure that correspondence from Canadians across the country is triaged and answered in a timely manner," he said.
"Preliminary discussions are currently taking place on potential solutions to handle the high volume of requests, but no decision has been made."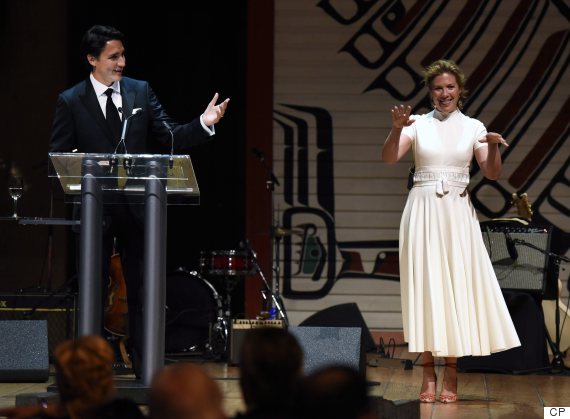 Sophie Grégoire Trudeau, right, mocked herself and her request for more help during a segment at Saturday's annual parliamentary press dinner. (Photo: Justin Tang/CP)
Duchesneau told HuffPost that the prime minister's wife currently has one executive assistant, Natalie St-Denis, who is charged with:
Answering correspondences.
Filtering requests to attend various events.
Co-ordinate her schedule with the prime minister's agenda.
Liaise with the RCMP.
Act as the point person between Grégoire Trudeau and the prime minister's office when there are official visits.
Grégoire Trudeau's stylist, Jessica Mulroney, is a close friend and is "not being paid at all for the help she is providing," Duchesneau added.
6 other household staff
The prime minister's staff occasionally accompanies Grégoire Trudeau to events when her assistant is unable to attend or when more help is needed, he said. They also help prepare speaking notes and videos for official events.
Six other people are currently listed as working for the prime minister's residence: a chef, assistant chef, an executive co-ordinator, a house manager, and two additional household staff.
The Trudeaus kept most of the help that was previously at 24 Sussex although they did fire former executive chef Timothy Wasylko. Wasylko, who had been with former prime minister Stephen Harper since 2010, was paid between $76,002 to to $82,171. The salary of his replacement, Neil Dhawan, is between $67,168 to $76,151 a year.
Also on HuffPost:
Justin Trudeau's Kids At His Swearing-In Ceremony