A massive sinkhole in the heart of downtown Ottawa has snarled traffic, prompted evacuations, and swallowed a minivan.
A water main break caused the giant chasm to open up Wednesday morning on Rideau Street near Sussex Drive, outside the Rideau Centre mall and steps away from Parliament Hill.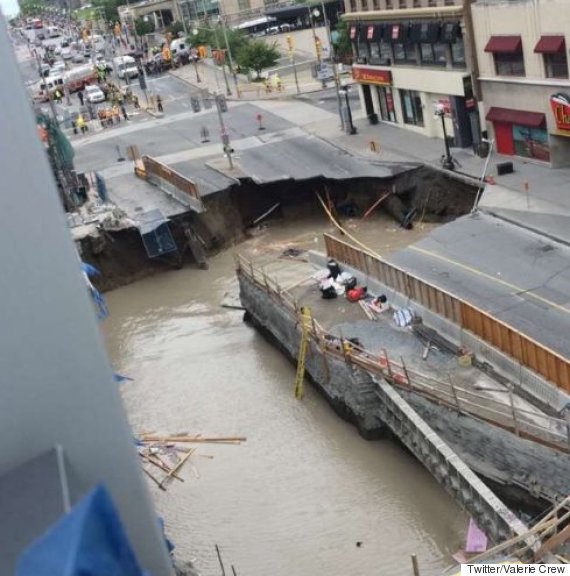 Guys I just saw a car get sucked into the sinkhole #ottawasinkhole #sinkhole #ottawa pic.twitter.com/7YyaHpzudr

— Sophie (@_Sophster) June 8, 2016
Burt Blaisdell, a site superintendent who is working on new store in the Rideau Centre mall, said he and his crew left quickly once the bells to evacuate the building started sounding.
"It's a normal fire alarm came up to evacuate. They never said why," Blaisdell told The Huffington Post Canada.
He was allowed to back in to get the workers' keys and wallets, but wasn't permitted to stay more than 10 minutes inside the building.
"They are lucky that someone didn't get hurt. Guys were working there," Blaisdell said.
CTV Ottawa tweeted that a minivan swallowed up by the sinkhole is now under water.
The van on Rideau Street is now under water #ottnews #sinkhole pic.twitter.com/l6Gk5WjM2s

— CTV Ottawa (@ctvottawa) June 8, 2016
The water main break also caused a gas leak in the mall and the adjacent Westin Hotel, which were evacuated Wednesday morning, according to the National Post.
So. Major sinkhole in Ottawa. Entire mall closed due to gas leak. On the bright side I'm still getting paid 😁 pic.twitter.com/fWCh8ifBrA

— ☯ (@itzCJ_C) June 8, 2016
Twitter users wasted no time in making jokes about the sinkhole.
10$ says @JustinTrudeau is gonna take a selfie with the sinkhole #staytuned

— •alicia• (@aliciagagnonn) June 8, 2016
I'm seeing all this stuff about a sinkhole in Ottawa. What's up with the Senate?

— Peter Scowen (@scowen13) June 8, 2016
*makes joke about sinkhole, nervously checks to make sure nobody died in sinkhole*

— Les Perreaux (@perreaux) June 8, 2016
There's already a parody Twitter account.
New profile pic? RT for YES. Favorite for HELL YES! pic.twitter.com/nSLHXoTATU

— Rideau Sinkhole (@Rideau_Sinkhole) June 8, 2016
With files from Althia Raj
Also on HuffPost
Ottawa Sinkhole Opens Up On Rideau Street