OTTAWA — A coalition of human rights advocates and current and former parliamentarians and diplomats is calling on the Liberals to launch a public inquiry into the handling of Afghan detainees.
The group released an open letter to Prime Minister Justin Trudeau on Wednesday, saying it's time for him to do what the previous government would not _ hold a full and open investigation into the policies and practices around Canada's transfer of captured Afghans to local authorities during the war in Kandahar.
Allegations those detainees were abused, in violation of international law, first surfaced publicly in 2007.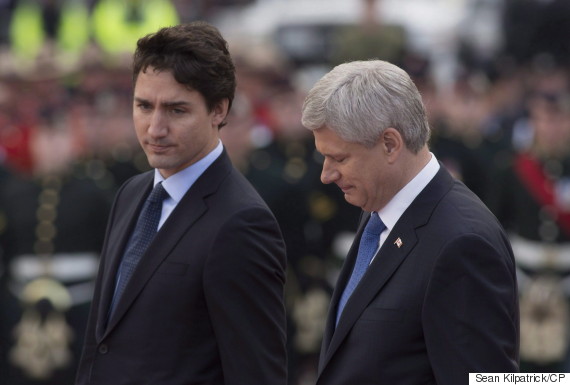 Ex-prime minister Stephen Harper and Prime Minister Justin Trudeau walk together during a ceremony marking the one year anniversary of the attack on Parliament Hill Thursday Oct. 22, 2015 in Ottawa. (Photo: Sean Kilpatrick/CP)
To what extent the Canadian military and government were aware of and ignored that fact, and what actually happened to the Afghans, was the subject of nearly five years of investigation by the military and Parliament.
But the Conservative government at the time refused to release much of the information those groups asked for to conduct their reviews.
The coalition says without a proper public airing, future incidents can't be prevented.
"This is unfinished business of the most serious kind: accountability for alleged serious violations of Canadian and international laws prohibiting perpetration of, and complicity in, the crime of torture," the group writes in the letter.
Ex-PM signs open letter
Signatories to the letter include former prime minister Joe Clark, former ambassadors, the former chair of the Security Intelligence Review Committee and former diplomats from Afghanistan, among others.
"As a result of the previous government's stonewalling, there were no lessons learned, and no accountability," the group writes in the letter, being released today.
"In a future military deployment, the same practices could reoccur."
Sajjan ducks question
Defence Minister Harjit Sajjan, who served in Afghanistan, did not directly answer questions about whether an inquiry could be held.
He said soldiers were rigorously trained then with upholding conventions prohibiting torture and continue to be trained now.
"My job is to focus ultimately on a future mission and I can assure you that we take this very seriously, making sure that we abide by the Geneva Conventions and international law."
ALSO ON HUFFPOST:
Harper's Legacy: Top Achievements, Failures, According To Poll