The Trudeau government is looking beyond the federal public service for executives to run some big departments, but is being cautioned that outsiders can sometimes be a bad fit for the public sector.
A tender issued this week asks headhunter firms for proposals to create lists of outside candidates willing to become deputy ministers, the top jobs in the federal public service.
"Ongoing talent sourcing will lead to the identification of an inventory of interested, high-potential candidates from outside the federal public service who have senior leadership abilities … who can add to the diversity of the deputy cadre," says a June 6 tender document from Privy Council Office.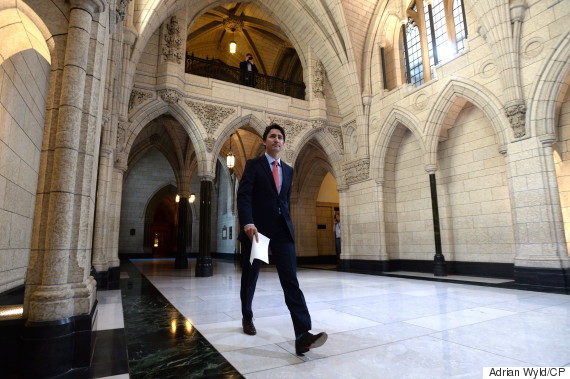 Prime Minister Justin Trudeau makes his way to a caucus meeting on Parliament Hill in Ottawa on Wednesday, June 1, 2016. (Photo: Adrian Wyld/CP)
The goal is to have these candidates available for consideration whenever cabinet needs to fill some of the 70 deputy minister and associate deputy minister posts across government.
"Existing public service members are not being excluded from this process," said Raymond Rivet, a spokesman for the Privy Council Office, the central agency of government answerable to the prime minister.
"An executive search firm will … ensure that other candidates from outside the federal public service are identified for possible consideration."
The job initially will require three to five candidates to be assessed each month, with the final master list updated every two months. The successful headhunting firm is also forbidden for two years from hiring away candidates who actually win deputy minister jobs.
Master list a new initiative
Rivet pointed to several successful deputy minister appointments from outside the public service over the last decade – Richard Dicerni at Industry, Glenda Yeates at Health Canada, Paul Boothe at Environment. But he says the master list is a new, formalized initiative.
Donald Savoie, an expert in public administration at the University of Moncton, says the federal government has become too Ottawa-centric, so he applauds the effort to "sprinkle the public service with a different perspective."
But Savoie predicts the new recruiting process will not see more than two deputy ministers appointed from the outside over the next four or five years — and he thinks that may be a good thing.
Government departments and businesses are vastly different entities, he says, requiring different skill sets. There are too many examples of business executives who came into the public service and "bombed."
"I saw where they came in and made a mess of things," he said in an interview. "You need a deep appreciation of the culture of the public service."
Suitable outside candidates, however, can also come from provincial governments, universities or other non-business entities, he notes.
Rivet said the Trudeau cabinet has already begun to hire from the outside, citing the appointments of Catherine Blewett as deputy minister of Fisheries and Oceans, and Dylan Jones as deputy minister of Western Economic Diversification, both effective June 20.
Blewett has extensive experience with the Nova Scotia government, while Jones was president and CEO of Canada West Foundation, a Calgary-based think-tank.
The prime minister on Tuesday also announced several new deputy minister appointments from within the ranks of the federal public service.
The recruitment tender closes in July 18, with the winning firm likely to start list-making by the fall.
ALSO ON HUFFPOST:
How Much Are Federal Politicians Making? (2016)