Hey, retailers — you might not want to make your shoppers feel insecure about their bodies.
High-street British shoe brand Office is being slammed after sending out a promotional email reminding women to shave their legs before showing a little skin. And you guessed it, a lot of women were not too thrilled to receive that reminder.
On the website Mumsnet, Katy, a British mother who goes by the online username AliceInWonderland3, expressed her frustration with the email she received last week that had a subject line of "Show a little leg," while the tagline below read, "Just don't forget to shave them."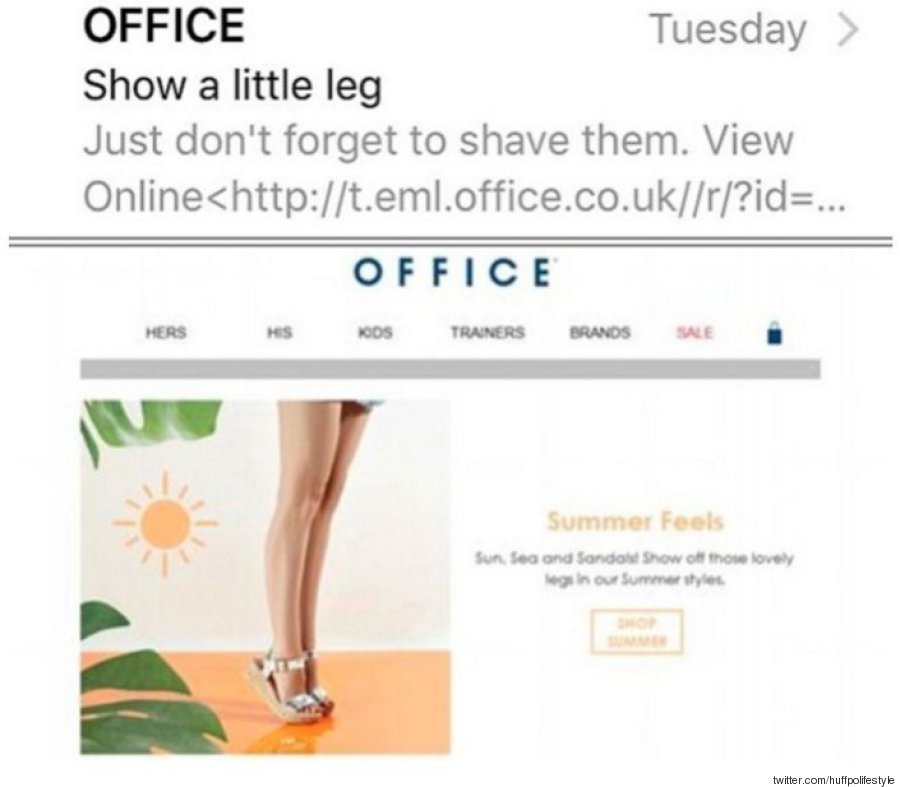 "I shave my legs because I know people I encounter day-to-day will be horrified by body hair on a woman, but I don't need a business trying to make me feel bad if I choose to go outside without doing so," Katy wrote in the forum. "Or trying to make me feel disgusted by something natural."
And other women agreed:
how are @OfficeShoes gonna email me telling me to shave my legs in the 21st century! I'll have hairy legs if I want to #disgusted #feminist

— louise (@louiseaisling) May 31, 2016
@OfficeShoes my legs are out AND unshaven. The lovely lil hairs are swayin in the breeze. Don't tell me to shave them to look good in shoes

— betty belsten (@bettyspangles) May 31, 2016
In an interview with the Daily Mail Online, the 24-year-old said she believed the email was "sexist."
"It's sexist and double standards. If you find body hair gross or unhygienic, as so many people do, why is it okay on men?" she said in the interview.
Regardless if you agree with Katy or if you think she is too sensitive on the matter, removing body hair is a personal choice. As Good Housekeeping puts it, "It doesn't make your legs unsightly, unappealing or, in this case, unworthy of a pair of sandals."
Follow Huffington Post Canada Style on Pinterest, Facebook and Twitter!
Also on HuffPost