FORT MCMURRAY, Alta. — After weeks of worrying about a wildfire and smoke, evacuees returning to Fort McMurray in northern Alberta had to deal with a lot of rain on Thursday.
The oilsands city was hit by showers that prompted an Environment Canada warning about heavy rain and the possibility of flash flooding.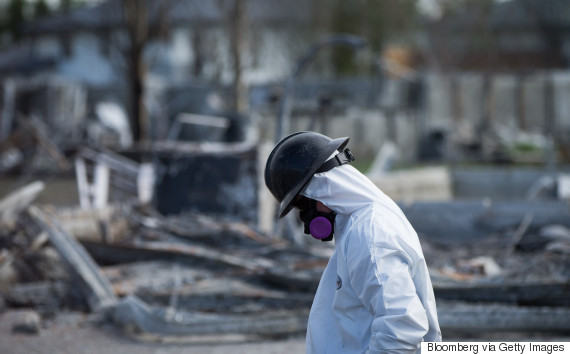 A worker wears safety gear while cleaning up debris from around storm drains in front of houses destroyed by wildfire in the Wood Buffalo neighborhood of Fort McMurray, Alta., on June 3, 2016. (Photo: Bloomberg via Getty Images)
But today's forecast is calling for mostly sunny conditions in the region with a chance of showers periodically over the weekend.
Thousands of people who fled last month's wildfire have been returning to the city and outlying communities since June 1.
Despite the rain, the government says people must continue to follow the ban on fires and off-highway vehicles as the forest is expected to dry out again.
Also on HuffPost
Fort McMurray Firefighters Battle Blaze (May 2016)