The iconic '80s pop singer, Rick Astley, is back with a new album called "50," paying tribute to the birthday he celebrated back in February. (Feeling old yet?)
He is known for songs such as "Never Going to Give You Up" and "Whenever You Need Somebody." But he famously retired at the age of 27.
In an interview with the BBC, Astley says singing is what got him through his parents' divorce. "My mom and dad divorced when I was very young. I was the youngest of four kids. I kind of think I just wanted to run away sometimes and not be in that kind of environment. So I think school play, getting in the church choir, all those different things were just a bit of an escape."
He started by playing drums in a band and was discovered at the age of 18 or 19. But he was offered a solo career, and it took him six months to decide to "give it a go" on his own.
While he had a lot of success very early on, the rigorous life of being an international pop star wasn't for him. In an interview with Metro UK, he said: "It wasn't what I expected it to be. I'll never forget the great moments but it was an everyday grind, which sounds pathetic. It seems glamorous – and parts of it were – but my background was singing in bands. I wanted to be on stage in front of people and there was very little of that. It was more about doing TV shows in Belgium."
Then his daughter, Emilie, was born in 1992. "When our daughter was born a light went on for me – there was more to life than what I was doing," Astley told Metro. "It felt like being famous for being a paint salesman. It wasn't the dream I was sold on. I'd had enough of it. I wouldn't see my daughter for weeks on end."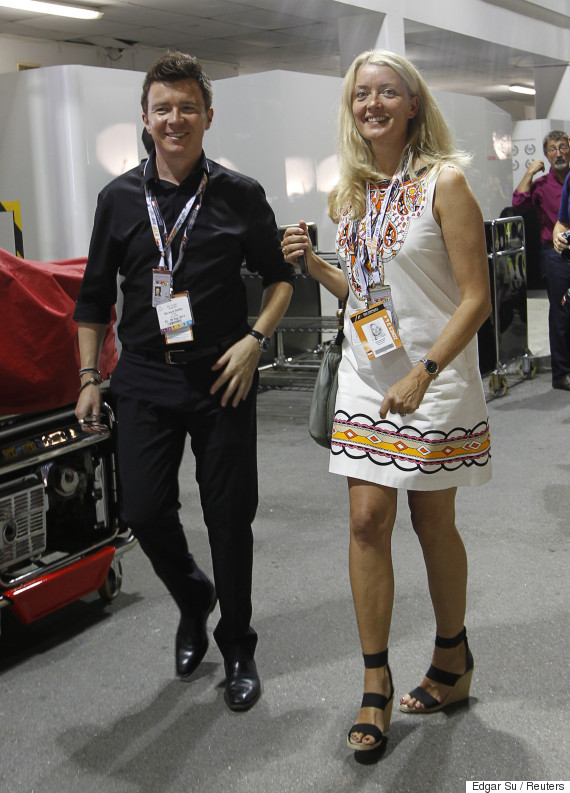 Singer Rick Astley and wife film producer Lene Bausager in Singapore on September 24, 2011.
And he decided to retire. He did release one album in 2005 entitled "Portrait." And of course, he is forever imprinted in our brains thanks to "rickrolling." This was an internet prank that first started in 2008 in which Astley's video for "Never Gonna Give You Up" would unexpectedly appear online.
He is thankful for the time he has spent away from the industry. "My success set me up for life and it meant that I could retire from the music industry at 27 to spend time with my newborn daughter and my wife," Astley told The Telegraph. "My time away from the spotlight allowed me to rediscover my love for music and I'm doing it for me now, and no one else."
Also on HuffPost
Child Stars Who Don't Age