Conservatives believe they caught their Liberal rivals attempting to force Canadians to donate to the party before they can have their say on electoral reform.
It was an allegation that caught Democratic Institutions Minister Maryam Monsef by surprise in question period Monday.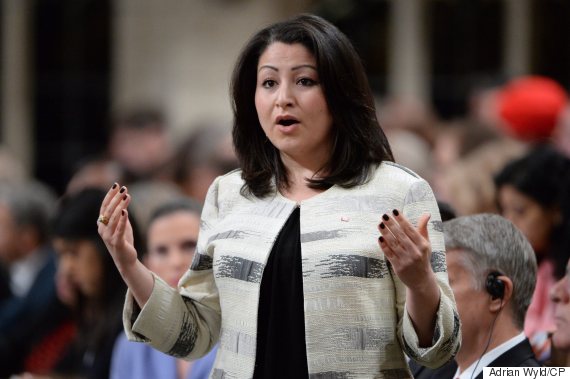 Democratic Institutions Minister Maryam Monsef speaks in the House of Commons on Monday, June 13. (Photo: Adrian Wyld/CP)
Tory MPs rose to blast a panel discussion to be hosted this Sunday by the Dufferin-Caledon Federal Liberal Association. The group promoted the event online by noting how Monsef "challenged all 338 ridings in Canada to engage in active discussions" on Canada's electoral system this summer.
But the riding association initially charged tickets to the event, stating that since the meeting is "not sponsored by the Party or Government … there will be a cover charge of $10 to cover facility and other costs." The riding association made that fee "optional" shortly after question period.
Conservative House Leader Andrew Scheer told MPs that he now understands why Monsef has "been pushing town halls so hard," and dismissing the Tories' calls for a referendum. It's not because she wants input from Canadians, Scheer charged, but rather their donations.
"Is the reason the minister is so opposed to holding a referendum because her party cannot make money off one?" Scheer asked.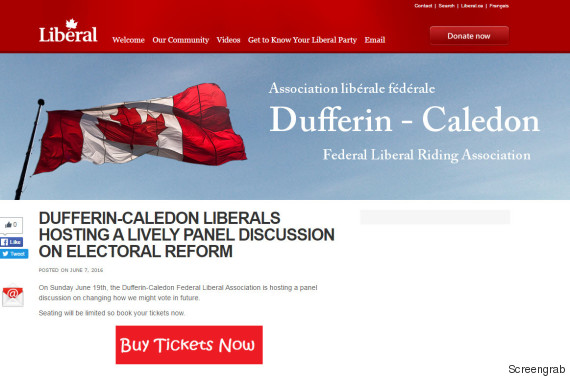 A screengrab of the Dufferin-Caledon Liberal website before it was changed.
Monsef said all MPs are tasked with ensuring that their constituents' voices are reflected in the report that will be put forward by the all-party committee studying changes to the electoral system.
"I want to ensure that all members are following all of the rules and regulations put forward by this House to make sure that we carry ourselves with integrity," Monsef said.
'What a sham'
Tory MP Blake Richards also hammered the government over the event.
"It turns out Liberals are even charging Canadians to attend their town halls," he said. "What a sham."
Monsef told the House she was "surprised to be made aware" of the development.
"We will be looking into this matter," she said.
"If the minister wants to get to the bottom of it, she does not have to look very far," Richards said. "It is right there on the Liberal website."
Scott Reid, the Tory critic for democratic institutions, later said Liberals were giving a new meaning to the phrase: "penny for your thoughts."
Tory MP was invited
But a member of the riding association says the event was put together by local members solely to foster discussion on electoral reform.
George denHaan, vice-president of the Dufferin-Caledon Federal Liberal Association, told The Huffington Post Canada via email that the riding's MP — Conservative David Tilson — declined an invitation to participate in the panel. Two political science professors and a local business leader are poised to discuss the merits of the ranked ballot system, proportional representation, and the status quo of first-past-the-post.
"While we initially opted to charge a very modest fee of $10 to help cover the costs, we have decided to make this optional to ensure that everyone can come and participate," denHaan said in the email.
"We are looking forward to the forum and invite all local residents to come and engage in the discussion."
ALSO ON HUFFPOST:
Maryam Monsef, Democratic Institutions Minister