A second Canadian hostage is believed to have been killed in the Philippines by an extremist group after ransom demands were not met.
Islamist group Abu Sayyaf had demanded a $16.6 million for the release of three hostages, including Canadian Robert Hall, to be paid by Monday at 3 p.m.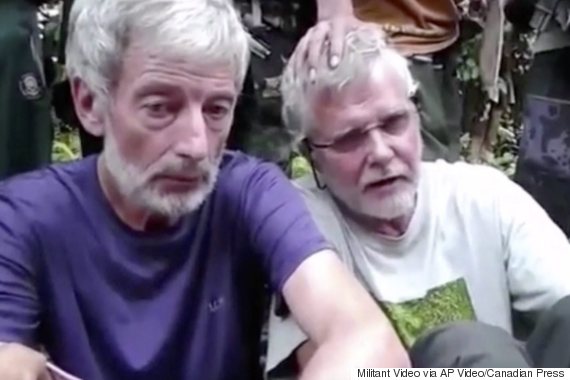 This image, made from undated militant video, shows Canadians John Ridsdel, right, and Robert Hall. (Photo: AP Video/Canadian Press)
Filipina Maritess Flor and Norwegian Kjartan Sekkingstad, who is also a permanent resident of Canada, have also been held hostage after being kidnapped last fall.
Sources confirmed to the The Globe and Mail, Al Jazeera, and CBC News that it was Hall who was executed.
A military spokesperson told The Globe and Mail that Hall's family had offered to pay $1.4 million for his release, but that the terror group had demanded $16.6-million or nothing at all.
'Cold blooded and senseless murder'
Prime Minister Justin Trudeau told reporters Monday that while the federal government is trying to formally confirm Hall's death, there is every reason to believe the reports are true. He said Philippine president Benigno Aquino has already expressed his "profound condolences and regret" to all Canadians.
"The Hall family has shown great strength of character in their resilience and are admirable in the face of this terrible situation," Trudeau said. "This is a grievous loss for them and their country mourns with them."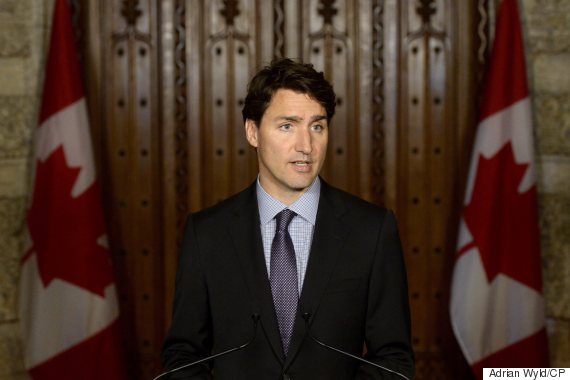 Prime Minister Justin Trudeau makes a statement regarding Canadian hostage Robert Hall in the Philippines during an availability in the House of Commons foyer on Monday, June 13, 2016. (Photo: Adrian Wyld/CP)
The prime minister noted that the tragic news comes shortly after an attack on a gay nightclub in Orlando. Both serve as "devastating reminders," he said, that vicious acts of violence and hatred cannot be tolerated.
Trudeau added that Canada holds the terror group who took Hall full responsible for the "cold-blooded and senseless murder."
He also underscored that Canada cannot and will not pay ransoms to terrorists, a message that he pushed at the most recent meeting of the G7.
"We will not turn the Maple Leaf worn with pride by over three million Canadians abroad into targets."
"Terrorist hostage takings only fuel more violence and instability," he said. "Canada cannot and will not pay ransom to terrorists. We will not turn the Maple Leaf worn with pride by over three million Canadians abroad into targets."
That was much the same message Trudeau delivered in April after Hall's fellow Canadian hostage, John Ridsdel, was executed after a demand for ransom was not met.
Trudeau also condemned Ridsdel's death at the time as "cold-blooded murder."
Ambrose: Terror threat 'remains very real'
Interim Conservative Leader Rona Ambrose also released a statement saying Canadians are "shocked and outraged" by the news.
"The threat of radical and barbaric acts of terrorism remains very real. Canada is not immune to the danger presented by global terror networks," Ambrose said. "We must stand in solidarity not just with the victims but with our allies around the world as we work together to disrupt and destroy these terrorist organizations."