A woman in the federal witness protection program is suing the RCMP for negligence and for undermining her trusted relationship with Canada's national police force.
The details of her case are contained in a judgment by Ontario Superior Court Justice Patrick Smith, who granted an injunction forcing the RCMP to continue financially supporting the woman, known as Jane Doe, as well as allowing her to expand the scope of her lawsuit against the Mounties.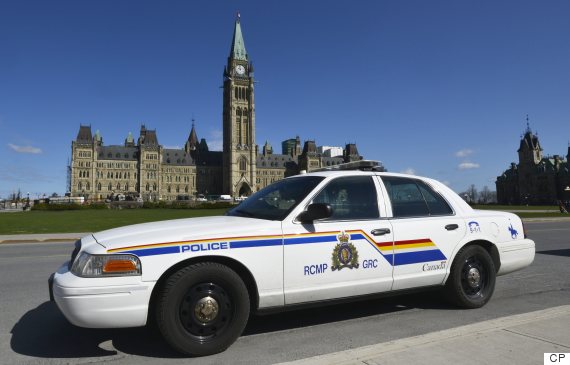 A RCMP vehicle is shown on Parliament Hill. (Photo: The Canadian Press)
The document tells the story of a woman who did the right thing, only to lose it all — family, friends, a good job and her mental health.
The heavily redacted court ruling summarizes the woman's claims, which included that after tipping off police about a drug crime, the RCMP compromised her identity and refused to own up to it.
The court ruling states that after happening upon intelligence related to a crime syndicate, she shared what she knew with her municipal police force.
The RCMP then used that information to investigate and prosecute several members of a criminal syndicate on drug-related charges.
Safety in jeopardy
It wasn't long though, before the RCMP perceived a threat to her safety and moved Jane Doe to a new location.
Even though she had not officially entered the witness protection program, Doe had to leave her old life behind. The RCMP gave her a one-time payment of $150,000 as well as a $25,000 reward for her assistance in the case.
But when Doe received something from the "threat zone" where she had once lived, the Mounties recommended she formally enter the federal witness protection program.
Doing so meant she had to sign an agreement promising not make any claims against the RCMP for any damages caused by her participation in the program.
Doe agreed to assume a new identity, leaving her friends and family behind, and the Mounties moved her to a new location.
After she signed the protection agreement, the document alleges, "an RCMP officer informed her that the reason she was put at risk and required the protection offered by the WPP was because of the RCMP's inadvertent disclosure of her identity and personal information [redacted]."
A year later, Doe launched a lawsuit.
In discovery, she says her lawyer heard audio recordings where members of the RCMP admitted the force had made ill-advised decisions in her case, along with revealing her identity.
The parties entered mediation sometime in 2014. According to the court document, Doe's lawyer informed the RCMP that if mediation didn't go well, he would seek to amend the original lawsuit to include broader allegations of negligence and breach of fiduciary duty.
The ruling says it was around that time that the RCMP first raised the idea of cutting off all financial support for Jane Doe.
Jane Doe told to apply for welfare
"On Feb. 12, 2015, Jane Doe learned from the RCMP officer handling her case that she was being directed to apply for social assistance and that the RCMP would be withdrawing her financial support," the ruling says.
The RCMP also told her to prepare to move into social housing and that "all support would cease as of March 31, 2015."
According to the document, the Mounties explained that the program's mandate is to ensure its protectees become self-sufficient.
But Doe apparently couldn't find steady, gainful employment without references from her past employers and her mental health has suffered. Her psychiatrist told the court Doe cannot work due to a dual diagnosis of PTSD and major depressive disorder.
The ruling also states that in 2013, after earning only $15,000 that year, Doe applied for disability benefits "but was denied because she lacked the requisite medical documentation under her new identity." In 2014, she earned even less.
The court document says the RCMP supplements her income by $2,100 per month.
The document reflects the argument of Canada's Attorney General that Doe "is simply being asked to move into social housing without (RCMP's) further financial support. Further they submit that Dr. [redacted] report recommends employment as a means to help Jane Doe break the cycle of unproductivity that contributes to her depressive symptoms."
Judge grants injunction and leave to expand lawsuit
Yet Justice Smith granted Doe's request for an injunction to force the Mounties to continue that financial support. He said it is evident Doe does not have the financial resources, family support, nor is she in the right state of mind to become self-sufficient.
"I accept that it is likely that Jane Doe will have to reach out to her family, located within the threat zone, if deprived of the RCMP's support," he said, before adding, "I find that the evidence provides that there is a real probability that irreparable harm will befall Jane Doe unless an injunction is granted pending the outcome of this litigation."
Justice Smith also granted Doe's request to expand the scope of her lawsuit.
"While Jane Doe did not initially seek to claim a legal remedy on the basis of the RCMP's knowledge of her claim and lack of disclosure, the RCMP cannot credibly claim that they did not know of the facts that gave rise to this claim. To borrow a phrase from Justice Lauwers, the RCMP knew without a doubt that the 'litigation finger' was pointing at them, and the facts upon which Jane Doe based her claim."
He reasoned that "Jane Doe was essentially asserting that something unsavoury happened, without having access to all the relevant information to determine the extent of her claim. She should not be penalized for now providing additional facts in support of her claim that the RCMP had access to throughout."
No one from the RCMP responded to CBC's request for comment.
When contacted by CBC News, Doe's lawyer Paul Auerbach declined to comment or provide any more details on the case as they are sealed.
The RCMP declined to comment as "this matter is currently before the courts."
Mounties say program focuses on needs of witnesses
But on April 7, 2016, CBC News conducted a wide-ranging interview about witness protection with the manager of the program, RCMP Assistant Commissioner Todd Shean.
"All decisions made within the federal witness protection program in regard to protectees are centralized here. So the decision-making with regard to the protectees is my area of concern and my team's area of concern," he said.
Shean also reiterated that the program is focused on the needs of witnesses.
"We want them to be successful in their relocation site. What support do we need to provide them — it could be addictions treatment, it could be financial support, it could be employment support?" said Shean.
Last month, CBC News reported that three psychologists inside the program's headquarters in Ottawa complained to supervisors about being bullied and harassed by the program's director. The RCMP is currently investigating those allegations.