A tough little Chihuahua managed to survive nearly a week in the wilderness of the Rocky Mountains.
Bitzy, who weighs just two pounds, was travelling with her owners in Banff National Park last week. When they pulled over at a rest stop near the border between Alberta and B.C., Bitzy decided to take off.
Her owners searched for her for hours with no luck.
After five days of surviving without food, water or shelter, an official spotted the dog.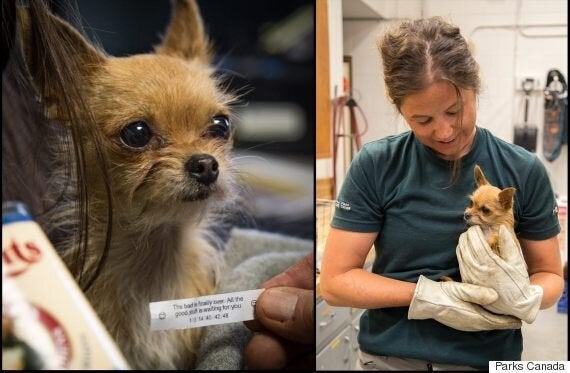 Bitzy the chihuaha was missing for five days in Banff National Park. (Photo: Parks Canada)
"It took five people to catch Bitzy and the first food she ate was a tiny piece of fortune cookie with a very appropriate message," Banff National Park posted on its Facebook page.
The message read: "The bad is finally over. All the good stuff is waiting for you."
A staff member took her home before she could be reunited with her happy family back in Calgary.
Bitzy's owners shared a video of her back home doing tricks.
"I couldn't believe that she had survived. I couldn't believe that she had survived five nights out there. She was licking, licking, licking and wagging her tail. She was thrilled," owner Shauna Traub said in an interview with CTV News.
Bitzy must be tougher than she looks — Banff National Park has recently issued warnings as aggressive wolves and bears in the park have been looking for food.
Although Bitzy survived unscathed, Parks Canada officials want to remind visitors that it's important to keep dogs on leash so they don't run off.
"If they do run away, it's a challenge to find them again and find them healthy," James McCormick, resource management officer with Parks Canada, told the Calgary Herald.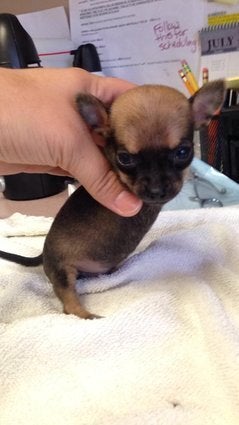 Turbo the cute two-legged Chihuahua has a new set of wheels