Like many air travel passengers, Jerell Smith opted for a physical pat-down over a body scan.
But unlike most passenger experiences, Smith said his penis was accidentally exposed during an aggressive search.
The law enforcement worker was going through security at Halifax Stanfield International Airport in October when he chose to skip the body scanner. He said he was on his way to the Dominican Republic with his girlfriend.
Smith said his rationale was that the pat-down would be faster, but that the screening officer assigned to do it didn't seem too pleased with his decision.
"I could tell he was a little bit upset," Smith told The Huffington Post Canada, adding the agent repeatedly asked him why he wouldn't just hop in the scanner.
"I think that's the basis of why I was treated the way I was."
Right away, Smith said he noticed the search was very aggressive. The officer was slapping his back, he said.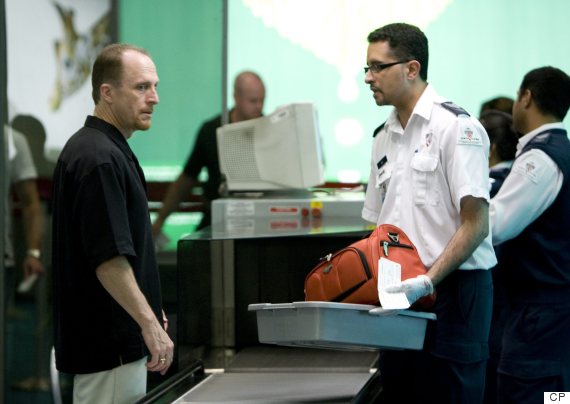 A member of The Canadian Air Transport Security Authority takes a bag from a passenger at the Vancouver International Airport for testing June 20, 2008. (Photo: John Lehmann/Globe and Mail)
Smith was wearing a form-fitting T-shirt and sweatpants, and when the agent got to his legs, the sweatpants were pulled down a bit. He told the officer to be careful.
"I can't quote him verbatim... he said that, 'this is what you wanted, this is the search you're going to receive.'"
Then the right side of his pants actually fell down, Smith said. The slit in the front of his underwear was unbuttoned at the time, he said, and his penis was exposed.
He squatted down to pull them up and then stepped away from the officer, who demanded he come back to resume the search.
"I can't quote him verbatim, but he said, this is what you wanted, this the search you're going to receive."
"I said, 'Well, you just pulled my pants down, that's why I stepped away. Take it easy. Be careful,'" he recounted.
"Obviously at this point I'm a little bit upset."
Smith also said a woman behind him may have seen his genitals. He said he looked up immediately after he pulled his pants up and saw a stunned expression on her face.
After, he went to speak to a supervisor, who told him his clothing was to blame for the accidental exposure.
Frustrated, Smith filed an official complaint with the Canadian Air Transport Security Authority (CATSA), the organization responsible for screening at Canadian airports. He was told that his claim would be taken seriously.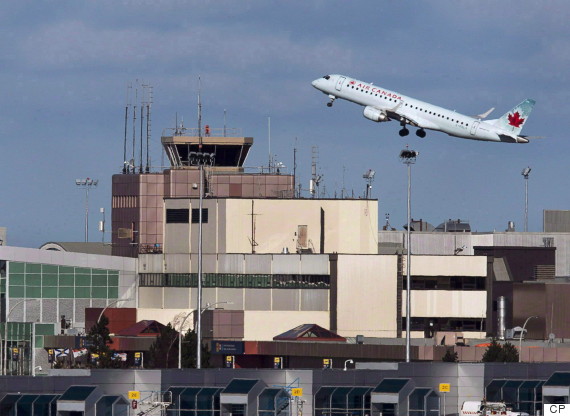 An Air Canada passenger jet takes off from Halifax on January 21, 2013.
"I'm a big guy," he told HuffPost Canada. "As I told CATSA, I'm 270 pounds, I'm just over six foot. To physically move my body takes force." The issue isn't about the force used in the search, he said.
"No, I don't have bruises, no, I wasn't injured, but at the same time, I felt disrespected."
Smith received a call back from a CATSA representative, who told him that while the search was aggressive and didn't meet their guidelines, the organization couldn't verify that his pants were actually pulled down.
CATSA says it can't confirm Smith's claim
Spokesperson Mathieu Larocque confirmed that finding in an interview.
"What was claimed in the complaint was not co-operated by what we could see in the CCTV footage as well as statements by screening officers."
Larocque told HuffPost Canada the process of investigating a complaint includes reviewing video as well as conducting interviews with the personnel and passengers involved.
Story continues below
When Smith asked to see the footage himself, the organization agreed to show him. But he said he was stunned to discover that even from four different camera angles in a passenger screening area, no video evidence existed of his actual search.
"It was like watching an Atari video game. It was ridiculous."
Smith said he was told sometimes the cameras get knocked out of place when they're cleaned. It's an absurd explanation, he said. But CATSA disagrees.
"That is inaccurate," Larocque said of Smith's claim no video exists of his pat-down. "I looked at the video myself, you can clearly see the search from waist to toe. The allegations regarding passenger's pants and skin being exposed is not reflected in the video at all."
It was like watching an Atari video game. It was ridiculous."
Smith filed a complaint with Transport Canada over the worry the lack of footage of the passenger screening area could be a security risk.
He said he got a call back a few days later saying that some corrections had been made to the cameras at the Halifax airport.
A letter eventually arrived that officially confirmed CATSA's finding.
CBC News, which first reported the story, obtained a copy of Smith's initial complaint through an Access to Information request. The report more or less repeats his account of the Oct. 12, 2015 incident.
Smith said he contacted the public broadcaster after a friend told him his encounter had been included in an earlier roundup of airport security complaints.
He said that despite his experience, he has no hard feelings toward the airport security employees.
"I think they have a tough job. They search people all day, every day," he said, adding he hopes other travellers won't find themselves in a similar situation.
"The next time I went through the airport, did I feel anxiety? I most certainly did."