History has been made.
Just days after a gunman killed 49 people and injured scores of others in an LGBT nightclub in Orlando, Florida, a popular U.K.-based gay magazine has published an interview with the Duke of Cambridge.
Prince William posed for the cover of Attitude magazine, making it the first time a member of the Royal Family has appeared on the cover of — and did an interview for — an LGBT publication.
According to the magazine, His Royal Highness invited Attitude's editors to bring members of the LGBT community to Kensington Palace on May 12 to "hear their experiences of homophobic, bi-phobic and transphobic bullying, and discuss the mental health implications it has." William met with nine members of the LGBT community, including Paris Lees, a prominent British transgender activist and journalist.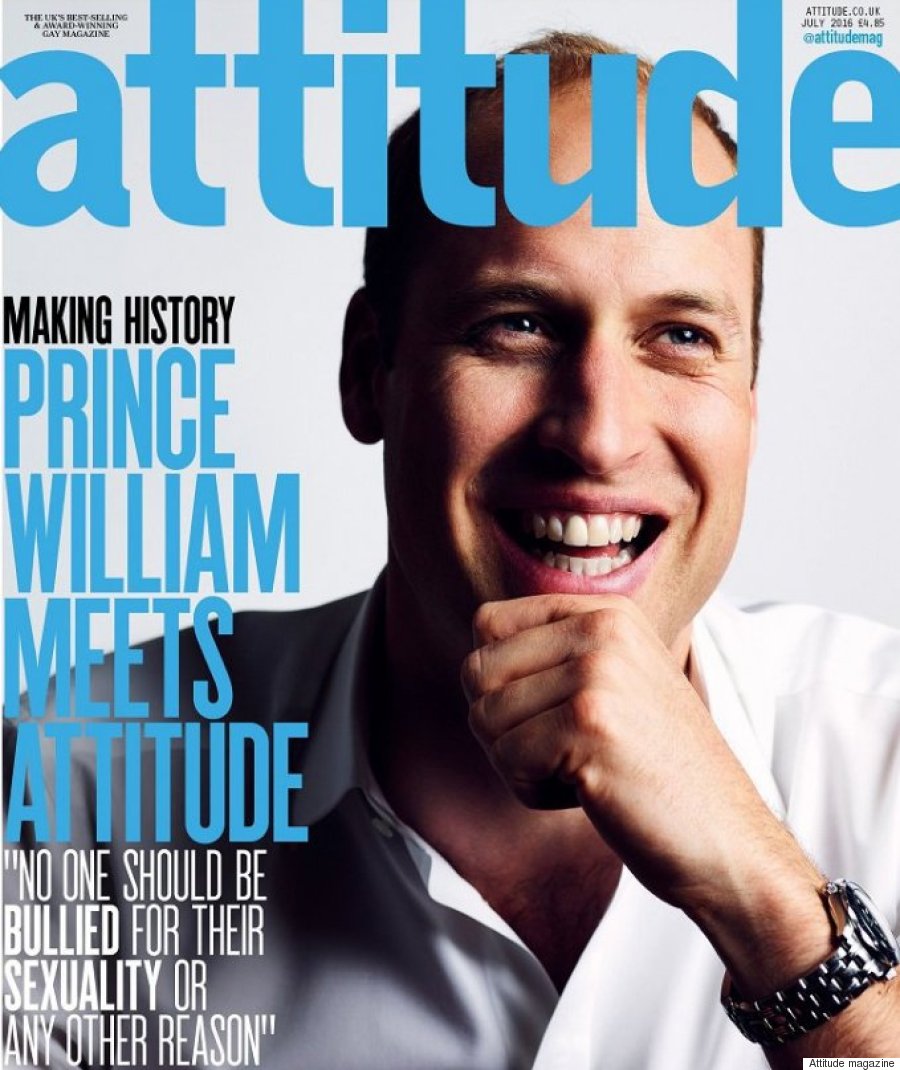 William told the magazine: "No one should be bullied for their sexuality or any other reason and no one should have to put up with the kind of hate that these young people have endured in their lives. The young gay, lesbian and transgender individuals I met through Attitude are truly brave to speak out and to give hope to people who are going through terrible bullying right now. Their sense of strength and optimism should give us all encouragement to stand up to bullying wherever we see it."
He continued: "What I would say to any young person reading this who's being bullied for their sexuality: Don't put up with it — speak to a trusted adult, a friend, a teacher, Childline, Diana Award or some other service and get the help you need. You should be proud of the person you are and you have nothing to be ashamed of."
The Duke's late mother, Princess Diana, was famous for her support of the LGBT community and challenged the public to change their attitudes towards people living with HIV/AIDS. In 1989, she opened Landmark Aids Centre in London and gave director Jonathan Grimshaw — who was HIV positive — a handshake, which, at the time, was seen as taboo, as many professionals wore rubber gloves when working with AIDS patients. It was the first attempt by a high profile member of the Royal Family to de-stigmatise HIV/AIDS.
Watch a video of the historic meeting below:
The late Princess of Wales traveled to meet many young HIV/AIDS patients, including a seven-year-old girl, who got a hug from the Princess and a young man at Casey House, an AIDS hospice in Toronto.
For his part, William worked last year with the Diana Award, an organization set up in his mother's name, for which he attended two events aimed at raising awareness about homophobic bullying.
On Tuesday, the Duke and Duchess of Cambridge paid their respects to the victims of the Pulse nightclub shooting by signing a book of condolence at the U.S. Embassy in London.
Also on HuffPost
Orlando vigils around the world