Topher Seguin / Reuters
Alberta RCMP have asked for the public's help in determining whether the Fort McMurray wildfire was started illegally.
The blaze was first spotted by an airborne forestry crew 15 kilometres southwest of the northern Alberta oil hub on May 1, and spread to over 5,800 square kilometres in size. It forced over 88,000 people to flee their homes.
Wildfire investigators have ruled out lightning as the cause of the fire, meaning it was most likely caused by humans, police said in a statement Tuesday.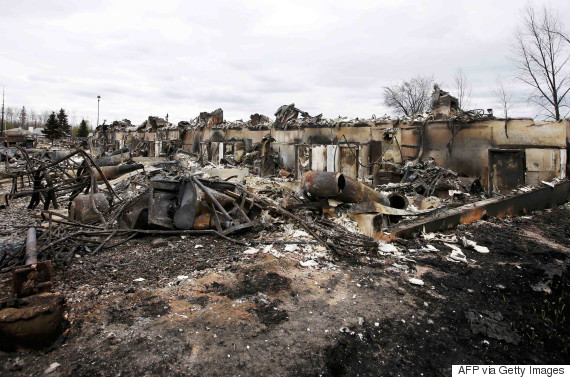 Burned-out homes sit in the neighbourhood of Abasand in Fort McMurray. (Photo: Chris Wattie/AFP/Getty)
Now, investigators are hoping to determine exactly how the flames were ignited, and are asking the public for information.
RCMP are hoping to speak with anyone who was in or near the Horse River Trail system between April 29 and May 5.
"It's not an area that's remote and isolated, it's an area that's frequently accessed by the individuals who reside in and around the Fort McMurray area," Cpl. Hal Turnbull said in an interview with CBC News.
The area is popular with hikers or people operating ATVs.
"We are looking for evidence if any criminal offence was the cause of the fire, such as arson. We don't have any reason right now to suspect it's that," Turnbull told Fort McMurray Today.
Half of the 1,200 wildfires started each year in Alberta are caused by people, The Canadian Press reported, and causes can range from human error to criminal activity.
Anyone with information is asked to call the RCMP's toll-free wildfire investigation line at 1-844-620-9826, or anonymously call Crime Stoppers at 1-800-222-8477.
The Fort McMurray wildfire was over 73 per cent contained as of the government's last update. There are still over 1,500 firefighters tackling the blaze.
Also on HuffPost:
Fort McMurray Wildfire (May 2016)