Let us start off by saying this: We love Drake and everything about him. His music, his smile, the fact that he's from Toronto and of course, his style.
However, our beloved 6ix god made a very questionable fashion choice on Thursday while filming the music video for "No Shopping" with rapper French Montana, which has left us confused, shocked and somewhat disappointed.
Ready for this?

Yes, that is the rapper born Aubrey Graham in a suit and flip-flops (as for the beard, we're not even going to go there).
Now there could be several reasons for Drizzy's attire, so allow us to break it down for you.
1. He's in the Dominican Republic.
Disclaimer: As you can probably tell, we're not huge fans of flip-flops. They're just not sensible footwear, not to mention they're breeding grounds for bacteria and are pretty bad for your feet/back, etc. To us, the only appropriate place to wear flip-flops (at least of the foam variety) is to the beach, pool or someplace tropical (i.e. the Dominican).
Having said that, another Instagram clip shows the "Hotline Bling" rapper golfing in flip-flops, which again, just makes no sense and completely rules out this argument.

2. He forgot to bring his shoes to the shoot.
Fact: We know Drake had other pairs of shoes on this trip. Case in point, the below photo which was posted to his Instagram account Thursday night:

But hey, maybe Drake had a lot of things to bring to the shoot location and simply forgot to bring his Air Jordan OVOs to set, resulting in the suit and flip-flops.
However, if you really think about it, Drizzy probably has a ton of assistants helping him and at least one of them would have been able to bring him a pair if he really needed them.
Which leads us to...
3. He's trolling us all and trying to see if he can make suits and flip-flops a thing because he's Drake.
Remember that time Cady Heron in "Mean Girls" wore army pants and flip-flops, resulting in others wearing army pants and flip-flops?
Maybe Drake's just experimenting and seeing if he can make this bizarre ensemble a trend. After all, he did make the turtleneck cool again thanks to his "Hotling Bling" video.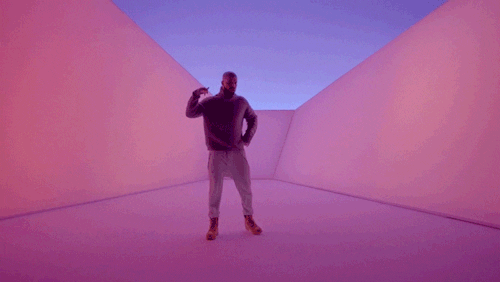 So Drake, if you're messing with us, LOL, but like, guys, please don't wear suits and flip-flops. (Seriously, don't do it.)
Follow Huffington Post Canada Style on Pinterest, Facebook and Twitter!
Also on HuffPost