MONTREAL — A man was charged Friday with assault with a weapon after someone threw an object at Quebec Premier Philippe Couillard as he attended a vigil for those slain in the Orlando massacre.
Esteban Torres, 20, was also charged with disturbing the peace in Thursday night's incident.
He pleaded not guilty to both counts.
Torres was freed pending a Sept. 15 court appearance and must respect various conditions, including staying away from Couillard and any person linked to a political party.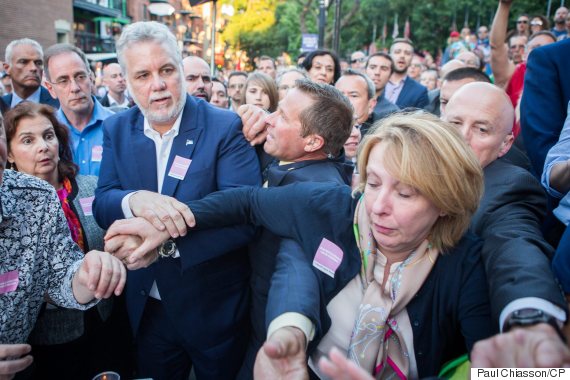 Quebec Premier Philippe Couillard reacts after being attacked by Esteban Torres in the gay village of Montreal, Quebec, on June 16, 2016. They were at a viigil honouring victims of the Orlando shooting. (Photo: Paul Chiasson/CP)
He is prohibited from taking part in any public protests unless they are peaceful.
And if he is attending a peaceful demonstration that turns nasty, he must leave right away.
Torres is also banned from attending any activities organized by Pink Bloc, which bills itself as anti-capitalist and anti-heterosexist.
Crown prosecutor Amelie Rivard said the accused must consult his treating physician or a psychiatrist.
"We need to ensure he is in a state to understand his conditions and (that) his state won't put either himself or anyone else in danger," she said outside the courtroom.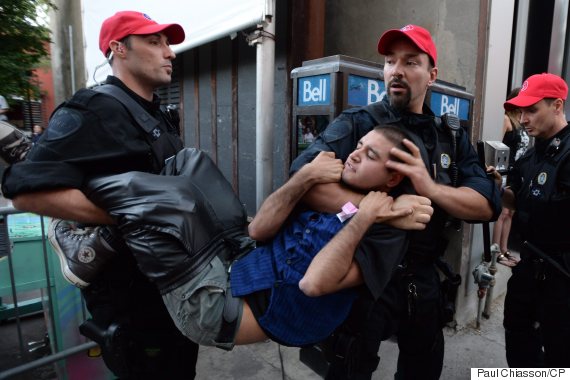 Police arrest Esteban Torres, 20, on June 16, 2016. (Photo: Paul Chiasson/CP)
The Crown did not object to his release.
According to eyewitnesses, an individual threw an object resembling a large ball of paper at Couillard before being quickly subdued by police.
The premier was immediately escorted from the premises by his security team.
Torres had been one of the event's speakers.
Couillard was not injured and said Friday he'd put the incident behind him.
The otherwise peaceful event was held in honour of the 49 people who were killed and the more than 50 who were wounded when a gunman opened fire inside a gay nightclub in Orlando early Sunday.
Also on HuffPost
Philippe Couillard attaqué par un manifestant